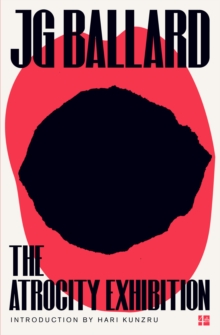 Atrocity Exhibition: Annotated Edition
Paperback
Description
A prophetic and experimental masterpiece by J. G. Ballard, the acclaimed author of 'Crash' and 'Super-Cannes'.
This edition includes explanatory notes from the author.
The irrational, all-pervading violence of the modern world is the subject of this extraordinary tour de force.
The central character's dreams are haunted by images of John F.
Kennedy and Marilyn Monroe, dead astronauts and car-crash victims as he traverses the screaming wastes of nervous breakdown.
Seeking his sanity, he casts himself in a number of roles: H-bomber pilot, presidential assassin, crash victim, psychopath.
Finally, through the black, perverse magic of violence he transcends his psychic turmoil to find the key to a bizarre new sexuality.
In this revised edition, Ballard has added extensive annotation that help to unlock many of the mysteries of one of the most prophetic, enigmatic and original works of the late twentieth century.
This edition is part of a new commemorative series of Ballard's works, featuring introductions from a number of his admirers (including Neil Gaiman, Iain Sinclair, James Lever and Ali Smith) and brand-new cover designs.
Information
Format: Paperback
Pages: 192 pages
Publisher: HarperCollins Publishers
Publication Date: 21/05/2001
ISBN: 9780007116867
Free Home Delivery
on all orders
Pick up orders
from local bookshops
Reviews
Showing 1 - 5 of 8 reviews.
Previous | Next
Review by stillbeing
16/06/2015
I have to admit, I mostly bought this due to the link with the Joy Division song, which has always puzzled me, but I wasn't expecting this. Not really a "novel" in the conventional sense, more a collection of snippets or impressions, which, in my interpretation, alter slightly enough each "round" to create a parallel scenario. I wouldn't say this is easy reading, but well worth it for those with an appreciation of similar techniques. *Where* you read this has a big effect on the overall impression - I couldn't read this one in bed of an evening, but reading it on the train made it all the more vivid, alluring, sensual and scary. I'd definately say this is one for the senses rather than the reason.
Review by marek2009
16/06/2015
This is a mixture of DeLillo, but without the fiction writer's finnese, or Baudrillard (whom he references), but without the essayists verve. I found it very difficult to begin with, really quite dull, as it is repititious & not particularly well written, but the images build to an effect, & the ideas are fascinating & at time highly original. I am glad I persevered, by the end it is quite illuminating & funny. The notes (from 1990) are well worth including.
Review by Parthurbook
27/08/2015
While I'm always up for an experimental piece, this collection of short stories, pamphlets and perspectives collected into a 'novel' left me cold .Very much the prequel to 'Crash!', TAE is thought-provoking in form and style, but not for the content itself. The irony of this 1990 annotated version is that Ballard's addendum notes to each chapter are the richest, most insightful writing.
Review by hampusforev
16/06/2015
I often have a penchant for what others might term "self-indulgent" literature. I love Naked Lunch and most of Burroughs' work. So naturally that led me to believe that I would like Ballard's Atrocity Exhibition, often mentioned alongside Naked Lunch as a great cult book. And I did like it most of the way, but in the end I found it rather boring. Ballard's tools are a bit blunt here, even though I love his psuedo-scientific jargon and laconic, weird style, most of the media landscape he tries to convey is ultimately lost on me, as a 20-year-old. I mean of course I know of JFK, Elizabeth Taylor, Marilyn Monroe and Reagan, but the names just doesn't carrie the same sort of resonance as they probably did back in the 60's. Also I can't stand art with a freudian rhetoric, which Ballard indulges somewhat in here. I did however love the comments Ballard made in my edition, and he's definitely a writer I'd like to get to know a little better.
Review by isabelx
16/06/2015
An experimental novel about sex, death, media manipulation, car crashes and celebrity, written at the fag-end of the 1960s and foreshadowing various themes found in his later works. The narrative is very repetitive, with chapters telling versions of more or less the same story, and I found it by turns tedious and repellent. Rather too experimental for my tastes - it has taken me forever to read it, and it's only 184 pages long.