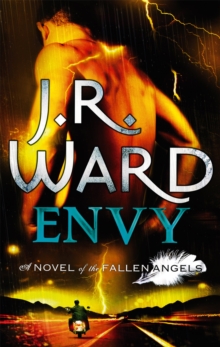 Envy : Number 3 in series
Paperback
Description
Seven deadly sins. Seven souls to save. And a man and a woman treading the lines of danger, desire and deliverance . . .As the son of a serial killer, homicide detective Thomas 'Veck' DelVecchio, Jr, grew up in the shadow of evil.
Now, on the knife-edge between civic duty and blind retribution, he atones for the sins of his father - while fighting his inner demons.
Assigned to monitor Veck is Internal Affairs officer Sophia Reilly, whose interest in him is both professional and arousingly personal. And Veck and Sophia have another link: Jim Heron, a mysterious stranger with too many answers . . . to questions that are deadly. When Veck and Sophia are drawn into the ultimate battle between good and evil, their fallen angel saviour is the only thing that stands between them and eternal damnation.
Information
Format: Paperback
Pages: 480 pages
Publisher: Little, Brown Book Group
Publication Date: 01/09/2011
Category: Fantasy
ISBN: 9780349400204
Free Home Delivery
on all orders
Pick up orders
from local bookshops
Reviews
Showing 1 - 5 of 5 reviews.
Review by wyvernfriend
16/06/2015
I still have some problems with the world-building in this series but I also found it quite readable (or maybe it was just the humour I was in this morning) I have problems with people being fated from birth because of actions of their parents. I'm also not sure where the title Envy came in, but the story dragged me in and kept me reading.Thomas 'Veck' DelVecchio Jr has grown up under the shadow of his famous serial-killer father, who is now on death row. Veck is a police officer, finding himself over a body with his memory blank, the body is still barely alive so he calls in an ambulance and his colleagues.Sophia Reilly is an Internal Affairs officer assigned to Veck and she's finding him interesting. Jim Heron lurks in the background trying to encourage them to deal with this situation and to choose good or evil.It's readable but picking at its holes makes them bigger.
Review by rubewrites
16/06/2015
my favorite of this series so far!
Review by mlsimmons
16/06/2015
I'll be honest, I read the first book and quit. After reading some of the reviews, I decided to go back and try the series again as audiobooks. I think each. Pom has been a little bit better than the last. I'm not sure what I think about how much the BDB world overlaps with this one. It makes me feel like I have to continue with this series so as to be sure not miss anything in BDB.<br/><br/>I will say that I like seeing more of the angels lives. I hope we get to continue to learn more about them.<br/><br/>Lastly, in this book, it seems the Ward is working her way closer to m/m for Blay and Qhuinn in BDB. There is a ménage scene and you learn more of another m/m couple.
Review by ThesePrettyWords
16/06/2015
What a roller coaster! From distrust to breaking rules to love to loss to grief...this book was riddled with emotional twists and turns. I loved most of it, though there was one scene that should have knocked me to my knees emotionally and just...didn't. <br/><br/>Still, four stars.
Review by TexasBookLover7
11/07/2015
4.5 stars...my favorite of the series so far. Loved Veck
Also in the Fallen Angels series | View all