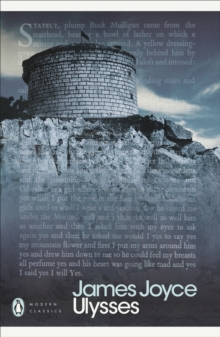 Description
A modernist novel of supreme stylistic innovation, James Joyce's Ulysses is the towering achievement of twentieth century literature. This Penguin Modern Classics edition includes an introduction by Declan Kiberd. For Joyce, literature 'is the eternal affirmation of the spirit of man'. Written between 1914 and 1921, Ulysses has survived bowdlerization, legal action and bitter controversy. Capturing a single day in the life of Dubliner Leopold Bloom, his friends Buck Mulligan and Stephen Dedalus, his wife Molly, and a scintillating cast of supporting characters, Joyce pushes Celtic lyricism and vulgarity to splendid extremes. An undisputed modernist classic, its ceaseless verbal inventiveness and astonishingly wide-ranging allusions confirm its standing as an imperishable monument to the human condition. Declan Kilberd says in his introduction that Ulysses is 'an endlessly open book of utopian epiphanies. It holds a mirror up to the colonial capital that was Dublin on 16 June 1904, but it also offers redemptive glimpses of a future world which might be made over in terms of those utopian moments.'This edition is the standard Random House/Bodley Head text that first appeared in 1960. James Joyce (1882-1941), the eldest of ten children, was born in Dublin, but exiled himself to Paris at twenty as a rebellion against his upbringing. He only returned to Ireland briefly from the continent but Dublin was at heart of his greatest works, Ulysses and Finnegans Wake. He lived in poverty until the last ten years of his life and was plagued by near blindness and the grief of his daughter's mental illness. If you enjoyed Ulysses, you might enjoy Virginia Woolf's Mrs Dalloway, also available in Penguin Classics. 'Everybody knows now that Ulysses is the greatest novel of the twentieth century' Anthony Burgess, Observer
Information
Format: Paperback
Pages: 1040 pages
Publisher: Penguin Books Ltd
Publication Date: 30/03/2000
ISBN: 9780141182803
Other Formats
Paperback from £1.99
Hardback from £11.25
CD-Audio from £13.05
PDF from £5.84
EPUB from £1.12
MP3 from £11.89
Paperback / softback from £14.50
Free Home Delivery
on all orders
Pick up orders
from local bookshops
Reviews
Showing 1 - 5 of 9 reviews.
Previous | Next
Review by Linus_Linus
16/06/2015
Personally Ulysses means more than a lot. To me, there are books and there is this bible. Was quite young the first time I tried it, couldnt drag beyond the first chapter. Then after two summers, lots of waters had passed under the bridge and many more truths collected when I picked it up casually at a friend's place and finished it in three days flat.Each word made perfect sense. Rare harmony:That experience of consciousness.<br/><br/>It is this consciousness that makes even most gifted writers kneel before its altar: <br/><br/>There is a story about how George Orwell was depressed after reading this. He wrote that how impotent he felt before the might of this book, that everything he ever wrote or read seemed like a speck of trivia.<br/><br/>And when Scott Fitzgerald met Joyce, he kneeled and sobbed like a smitten teenager asking him 'How does it feel to be great genius Sir?<br/><br/>Also, It has my favourite sentence in all english literature:<br/><br/>Love loves to love love. (Love-subject, object, verb, everything in the universe)<br/><br/>YES, Ulysses is not a book, its a Kingdom, love it or hate it, but deep down we all know English literature is simply divided into BU and AU- Before Ulysses and After Ulysses.
Review by m.a.harding
16/06/2015
Look upon my work ye authors, and weep. Carl Jung had it best in his essay on Ulysses. ('A giant tape-worm' he called it.) And also talked about how he could see Joyce, the author as a character in the book.Imagine taking a slice of the earth, taking every causal effect into that area, every causal effect through time. Imagine tracing those back, playing with seeing the connections go forward into present events, imagine following those threads back into the past. That is Ulysses. Ulysses is so complete it predicted the future. It contains 1984 ('it seems history is to blame.') I dare say you could predict the future from Ulysses today - though you probably need to be Joyce to do it.
I've had this book for ten years and it has defied my understanding. This year I got Bolt's 'Preface to James Joyce' and it has given me the tools to understand Joyce and this immense ground-breaking book. Slowly but surely I'm enjoying it, and it's worth the effort. But it's not a page turner; for literature addicts really!
Review by tronella
16/06/2015
There were parts of this book that I really enjoyed, parts that I hated, and a couple of parts which caused me to fall asleep mid-sentence (the first one was at 4pm! I wasn't even sleepy beforehand!).I think that this book is really a book for literature students, rather than people who like reading. I mean, the parts of it where I understood all the references, or could see what was going on with the writing style parodying something or paralleling (?) the story or something, those I really enjoyed. But there were other parts which just completely made no sense to me whatsoever, full of references to things I don't know about but made too obliquely for me to be able to look them up.Also I really didn't like that the last 30+ pages had no punctuation whatsoever. That just gave me a headache.Plot-wise, I mainly enjoyed it. The fact that this entire book only records the events of one day amused me, and the way that every detail (particularly the boring ones) were recorded meant you still got to understand the main characters pretty well.I don't get how they managed to make a film of this book without completely missing the point of it, but I haven't seen any adaptation of this, so... I guess I can't really comment.
Review by spk27
16/06/2015
Whew.I know that it's a classic, and realize that many people consider it to be the greatest novel of the twentieth century.I was constantly amazed by what Joyce could do with words, and there were many times when I re-read lines, paragraphs, or entire sections just so that I could savour the beauty of the language.But I have to admit that there were at least as many sections that I had to re-read because my eyes had glazed over, my attention had floated away, and I was bored.On the whole I enjoyed and am glad that I finally got around to reading this book, but once was enough.