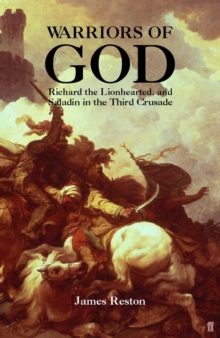 Warriors of God : Richard the Lionheart and Saladin in the Third Crusade
Paperback
Description
This is the epic story of the battle for the Holy Land, and the two opposing warriors at its centre: legendary crusader Richard the Lionheart, and Sultan Saladin, iconic hero of the Islamic world.
Richard Plantagenet, commonly depicted as a romantic figure, emerges here in all his dark complexity at the head of the blood-soaked Crusades.
Likewise Reston offers a compelling portrait of Salah ad-Din, a wise and cultured Sunni Muslim whose recapture of Jerusalem in 1187 set the stage for his mighty clash with the forces of Christian Europe. 'This book is a timely reminder that (we must hope) George Bush didn't know what he was talking about when he uttered the infamous 'c' word after September 11.
For the crusades were among the most disgusting blots on the human record, the men who embarked on them doing so in the name of their god, also known as the Prince of Peace; and they, too, thought they were defending the only civilisation on earth.' Geoffrey Moorhouse, Guardian
Information
Format: Paperback
Pages: 400 pages, 20 b&w illustrations
Publisher: Faber & Faber
Publication Date: 21/10/2002
ISBN: 9780571210626
Free Home Delivery
on all orders
Pick up orders
from local bookshops