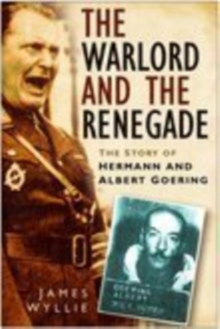 The Warlord and the Renegade : The Story of Hermann and Albert Goring
Paperback
Description
A founder member of the Nazi Party, Reichsmarschall Hermann Goring became the leader of the Nazis' economic war machine and supreme commander of the Luftwaffe.
As a party to some of the worst excesses of the Nazi regime, he ordered the terror bombing of civilians and promoted the use of slave labour in his factories.
Yet he was also a dedicated conservationist, much loved and admired by the rest of his family and, for many years, a popular hero to Germans of all ages and classes.
His brother Albert, seven years Hermann's junior, loathed Hitler and the Nazis and saved hundreds - perhaps thousands - of people across Europe from Nazi persecution.
Albert deferred to Hermann as head of the family, but spent nearly a decade working against his brother's regime, intervening wherever possible to rescue the victims of Nazi tyranny, from humble shopkeepers to heads of state.
Yet, it was only because Hermann was his brother (who effectively covered for him) that Albert was able to get away with his anti-Nazi activities for so long.
Despite the profound gulf between their beliefs, each believed sincerely that the other was only doing what he considered to be right. There is a continuing interest in the history of Hitler's Third Reich.
This is a quirky, untold story of Hitler's Third Reich that uncovers the Goring brothers' bizarre relationship.
It is illustrated with many rare archive photographs.
After reading History at Cambridge, James Wyllie became a screen and television writer.
In 1992 he was the first winner of the Carl Foreman/BAFTA Award and has been writing screenplays and projects for television ever since.
His recent achievements include screenplays for "The Bill" and the award-winning "The Tribe".
James lives in London and this is his first book.
Information
Format: Paperback
Pages: 256 pages, illustrations
Publisher: The History Press Ltd
Publication Date: 20/04/2006
Category: Biography: general
ISBN: 9780750940252
Free Home Delivery
on all orders
Pick up orders
from local bookshops