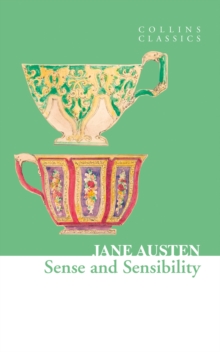 Collins Classics - Sense and Sensibility
Paperback
Description
HarperCollins is proud to present its range of best-loved, essential classics. 'Oh! Mama, how spiritless, how tame was Edward's manner in reading to us last night!
I felt for my sister most severely. Yet she bore it with so much composure, she seemed scarcely to notice it.
I could hardly keep my seat.' Spirited and impulsive, Marianne Dashwood is the complete opposite to her controlled and sensible sister, Elinor.
When it comes to matters of the heart, Marianne is passionate and romantic and soon falls for the charming, but unreliable Mr Willoughby.
Elinor, in contrast, copes stoically with the news that her love, Edward Ferrars is promised to another.
It is through their shared experiences of love that both sisters come to learn that the key to a successful match comes from finding the perfect mixture of rationality and feeling.
Information
Format: Paperback
Pages: 400 pages
Publisher: HarperCollins Publishers
Publication Date: 01/04/2010
Category: Classic fiction (pre c 1945)
ISBN: 9780007350797
Other Formats
EPUB from £0.99
Hardback from £8.95
Paperback from £6.59
Free Home Delivery
on all orders
Pick up orders
from local bookshops
Reviews
Showing 1 - 4 of 4 reviews.
Review by katiekrug
16/06/2015
In a nutshell: Not Austen's best, but a fine and entertaining introduction to her work.I really enjoyed my first reading of [Sense and Sensibility], despite being familiar with it through the Emma Thompson/Kate Winslet film. This was Austen's first published work and a good introduction to the themes and ideas that concern her most. The characterization is very strong without endless descriptions and explanations. The dialogue and actions of the characters provide us all the detail we need to know what Austen wants us to know about each. The minor characters are especially entertaining – selfish Fanny, spineless John Dashwood, vulgar but loveable Mrs. Jennings, and mean-spirited, sneaky Lucy. There is some wonderful commentary in the novel; my favorite line:"Elinor agreed to it all, for she did not think he deserved the compliment of rational opposition."And another favorite:"…and because they were fond of reading, she fancied them satirical; perhaps without exactly knowing what it was to be satirical; but that did not signify. It was censure in common use, and easily given."I won't go into the Elinor vs. Marianne, sense vs. sensibility arguments. This was my first reading and I read mainly with an eye to the plot and characters. A second reading will provide better opportunity for deeper reflection.
Review by jayney576
16/06/2015
Review by ecataldi
16/06/2015
Re-reading this book just solidified my opinion that it is the best of the Jane Austen novels. I know everyone has their hearts set on Pride and Prejudice and Mr. Darcy, but I believe that her first novel is raw and real and much more relatable. It truly remains as fresh a cautionary tale today as it ever was. The Dashwood sisters learn that the path to love isn't always straight and narrow and sometimes you're heart has to be broken for you to appreciate how whole a heart can be. Filled with memorable characters, witty dialogue, and unforgettable romance, this is a book readers won't soon forget. I really enjoyed discussing the book with my library Jane Austen Book and Film Club, we talked about how societal obligations have changed but the heart has remained the same and then we watched the Masterpiece Theater version. Overall, a must read. And if you haven't watch the 1995 movie version. It's amazing and you won't regret it.
Review by MaureenCean
10/11/2015
Entertaining enough, more accessible than I necessarily expected. Hard to believe that people would actually have been as obsessed with money as Mr. John Dashwood was. But forgive Willoughby? Seriously? That was lost on me.
Also in the Collins Classics series | View all