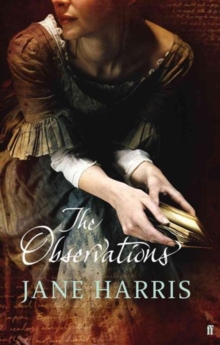 The Observations
Hardback
Description
So there I was with two pens, my two titties, Charles Dickens, two slice of bread and a blank book at the end of my first day in the middle of nowhere.
Except as it turned out it wasn't quite the end ...Scotland, 1863.
In an attempt to escape her not-so-innocent past in Glasgow, Bessy Buckley - the wide-eyed Irish heroine of "The Observations" - takes a job as a maid in a big house outside Edinburgh working for the beautiful Arabella.
Bessy is intrigued by her new employer, but puzzled by her increasingly strange requests and her insistence that Bessy keep a journal of her most intimate thoughts. And it seems that Arabella has a few secrets of her own - including her near-obsessive affection for Nora, a former maid who died in mysterious circumstances.
Then, a childish prank has drastic consequences, which throw into jeopardy all that Bessy has come to hold dear.
Caught up in a tangle of madness, ghosts, sex and lies, she remains devoted to Arabella.
But who is really responsible for what happened to her predecessor Nora?
As her past threatens to catch up with her and complicate matters even further, Bessy begins to realise that she has not quite landed on her feet.
Information
Format: Hardback
Pages: 432 pages
Publisher: Faber & Faber
Publication Date: 06/04/2006
ISBN: 9780571223350
Free Home Delivery
on all orders
Pick up orders
from local bookshops
Reviews
Showing 1 - 2 of 2 reviews.
Review by murraymint11
16/06/2015
I agree with what Kittycat in Amazon UK said:It made for an entertaining read, and the central character of Bessy was likeable enough. In my opinion there were a few loose ends that weren't tied up, which would have made the story ending much more satisfactory. I think there were directions the plot could have gone to make the plight of the Reid's and their unfortunate maids a little more gripping. The author would describe a character or Bessy's train of thought, and it would make me think, ahhh so that's what going on... and then she wouldn't take it any further. An example is the ghostly haunting. First, we know there is no ghost. Then, oh boy, there may actually be one! Then, probably not. I liked the idea that a ghost might really exist, but that part of the story never really developed. Nor were many of the characters allowed to develop. Who was the mysterious male partner of Mrs Gilfallan? A figment of Arabella's imagination? The vicar? Some characters come across as vaguely sinister, like James Reid, Bridget, Joe Dimpsey and some of the villagers, but they never really amounted to much. I wanted to know more about what made them tick. And what about Mr Levy's "remains" that Bessy popped into the velvet pouch? What has that to do with anything? The story could have ended in a bang, but just sort of petered out.
Review by posthumose
16/06/2015
A riveting story of an Irish maid and the odd goings on in the 19th century Sottish household she is hired into. Original, with more heart and compassion than most novels ever achieve. Highly recommended. I am now looking for a copy to own as I will read it again. It was also a short list nominee for the Orange Prize.