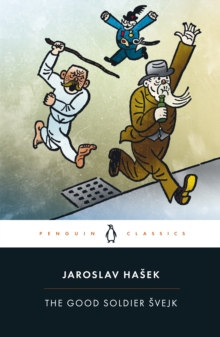 The Good Soldier Svejk,
Paperback
Description
The inspiration for such works as Joseph Heller's Catch-22, Jaroslav Hasek's black satire The Good Soldier Svejk is translated with an introduction by Cecil Parrott in Penguin Classics. Good-natured and garrulous, Svejk becomes the Austro-Hungarian army's most loyal Czech soldier when he is called up on the outbreak of the First World War - although his bumbling attempts to get to the front serve only to prevent him from reaching it.
Playing cards, getting drunk and becoming a general nuisance, the resourceful Svejk uses all his natural cunning and genial subterfuge to deal with the doctors, police, clergy and officers who chivvy him towards battle.
The story of a 'little man' caught in a vast bureaucratic machine, The Good Soldier Svejk combines dazzling wordplay and piercing satire to create a hilariously subversive depiction of the futility of war. Cecil Parrott's vibrant, unabridged and unbowdlerized translation is accompanied by an introduction discussing Hasek's turbulent life as an anarchist, communist and vagranty, and the Everyman character of Svejk.
This edition also includes a guide to Czech names, maps and original illustrations by Josef Ladas. Jaroslav Hasek (1883-1923) Besides this book, the writer wrote more than 2,000 short works, short stories, glosses, sketches, mostly under various pen-names. If you enjoyed The Good Soldier Svejk, you might like Mikhail Bulgakov's The Master and Margarita, also available in Penguin Classics. 'Brilliant ...perhaps the funniest novel ever written' George Monbiot 'Hasek was a comic genius' Sunday Times 'Hasek was a humorist of the highest calibre...A later age will perhaps put him on a level with Cervantes and Rabelais' Max Brod
Information
Format: Paperback
Pages: 784 pages
Publisher: Penguin Books Ltd
Publication Date: 26/04/2005
ISBN: 9780140449914
Other Formats
Hardback from £11.25
Paperback from £7.65
EPUB from £8.79
Free Home Delivery
on all orders
Pick up orders
from local bookshops
Reviews
Showing 1 - 5 of 6 reviews.
Previous | Next
Review by CitizenMarc
16/06/2015
Rabbelesian flow of picaresque shaggy dog stories, woven around the character and adventures of the enigmatic 'imbecile' soldier Svejk, whose seeming innocence conceals vicious guile and whose old-fashioned respect for order is just a facade for amoral opportunism - and yet a likeable character, because he is the mirror which reveals the hypocrisy and cant of the A-H Empire, and the emergent idle rich. Svejk is both 'everyman' and 'monkey king' - he gets out of the tightest corners to survive for the next day - and yet another, even worse undeserving predicament. The narrative is but an excuse for a torrent of stories - in the best tradition Chaucer and Bocaccio - often with a hidden 'moral' which may be truly subversive. In responding to his masters, while apparently acquiescing or simply passively endorsing, Svejks asides appear, like Shakespeare's court jesters, disguising wisdom in nonsense, concealing the cynicism of the put-upon in the servant's humble guise of apparent obedience. The humour is at times bawdy or earthy and then again, sharp and bitter - with objects ranging from the manners and morals of the haute bourgoisie to the inhumanly cruel suppression of Czech nationalism by the Germanic A-H empire and its spies and informers, and the madness of modern war.
Review by ngmcd
16/06/2015
Patience is required for this book. I found myself at times fully enjoying one of Svejk's ramblinf stories, other times I was tempted to skip through them. As the introduction to the book says, hasek's narrative skills leave a lot to be desired but it is still an immensely enjoyable piece of work. Svejk is the man we can all identify with, sympathise with and root for.
Review by difreda
16/06/2015
After spending more than 3 decades in the service of this Nation. I conclude that all new officers should have this as a well thumbed memento by the time they retire. Even today there is a bit of this nonsense left. Gladly or should I say "Humbly Report!" - the older officers have matured well beyond the Hasek's Generals. A must read for all military personnel - just like war Hasek has a lot of ups and downs - periods of absolute gut- busting humor - interspersed with doldrums - still a great read!
Review by RSGompertz
16/06/2015
If you like Kurt Vonnegut's "Cat's Cradle" , Douglas Adams' Hitchhiker's Guide to the Galaxy, Joseph Heller's "Catch 22," or John Kennedy O'Toole's "A Confederacy of Dunces," you'll be delighted to discover this obscure saga of "The Good Soldier Svejk."I'm not sure if any of the above mentioned authors were aware of this interconnected tangle of Central European shaggy dog stories written just after WWI, but it sure feels like the mother lode for modern satire.The author, born in Bohemia in 1883, was an eccentric writer who took up journalism, drinking, and wandering. Think of him as a Don Quixote lost somewhere in the Austrio-Hungarian empire. During WWI he was captured and spent years in Russian prison camps. Hasek's piercing sense of the absurd must have helped him survive a mountain of ordeals because he came out on the other side with this picaresque tale of a reluctant soldier who is either the most inept person on earth or the most brilliant we've ever produced. Svejk confounds everyone he encounters. Through wits or lack thereof, he survives the perils of war and wrath of his commanders, floating down a seemingly endless stream of hilarious and insightful parables.Svejk is the wise fool, the schlemiel, the coyote trickster. He lurches and stumbles from one fiasco to the next vexing his apoplectic superiors, skirting disasters, and always finding something to drink at the end of the day.The collected edition isn't an easy read in that it's very long and a bit of a ramble. But it's worth it. In many ways, this is a book about everything. You can mine it for meaning and metaphor, or just be entertained. It's old world and worldly--a massive send up of humanity caught at our best and worst with all our fancies and foibles gently laid bare.
Review by HadriantheBlind
16/06/2015
I've been on a roll with my reading recently. Love having time off.<br/><br/>Anyways - it is often said that this novel was an inspiration for Catch-22. Like Catch-22, it is hilarious. Unfortunately, it tends to go on for a little too long, also like Catch-22.<br/><br/>The moralizing in the end does tend to break up the monotony. The book ends abruptly, but this is due to the author's unfortunate death. This also explains some 'unpolished' sections of the book.<br/><br/>Despite these flaws, it is still hilarious and very much worth your time if you want a good rollicking anti-war novel.