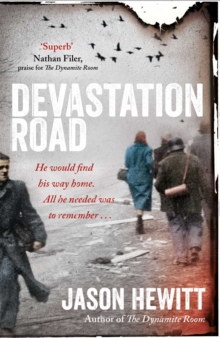 Devastation Road
Hardback
Description
'An intensely moving and atmospheric novel - subtle, powerful and beautifully written.
It's a devastating journey at times, but a compelling one' Antonia Hodgson, author of The Devil in the Marshalsea A deeply compelling and poignant story that, like the novels of Pat Barker or Sebastian Faulks' Birdsong, dramatises the tragic lessons of war, the significance of belonging and of memory - without which we become lost, even to ourselves. Spring, 1945: A man wakes in a field in a country he does not know.
Injured and confused, he pulls himself to his feet and starts to walk, and so sets out on an extraordinary journey in search of his home, his past and himself. His name is Owen. A war he has only a vague memory of joining is in its dying days, and as he tries to get back to England he becomes caught up in the flood of refugees pouring through Europe.
Among them is a teenage boy, Janek, and together they form an unlikely alliance as they cross battle-worn Germany.
When they meet a troubled young woman, tempers flare and scars are revealed as Owen gathers up the shattered pieces of his life. No one is as he remembers, not even himself - how can he truly return home when he hardly recalls what home is?
Information
Format: Hardback
Pages: 384 pages
Publisher: Simon & Schuster Ltd
Publication Date: 30/07/2015
ISBN: 9781471127441
Free Home Delivery
on all orders
Pick up orders
from local bookshops
Reviews
Showing 1 - 1 of 1 reviews.
Review by atticusfinch1048
27/08/2015
Devastation Road - A deeply compelling and poignant storyDevastation Road by Jason Hewitt is one of the most deeply compelling and poignant stories of the year that will touch you and leaves you asking is redemption possible. The prose is so well written as you read it feels like you are watching a movie of the book, the imagery is so powerful, the characterisation so strong, you could be in the midst of Europe at the end of war.Owen wakes up in the middle of a field in April 1945 and he thinks he is somewhere in Hampshire, when in fact he is in Czechoslovakia, and he only finds this out when Janek comes to his rescue. Owen's memory is fractured and he has bits of memory of who he is and wants to get home. He at first gets up and begins to walk in the direction of what he thinks is home and it is when the young Czechoslovakian Janek comes across him they begin their search for home and brothers together.As they begin their walk they find they are not the only people walking as everyone seems to be on the roads carrying their worldly possessions. As they walk they come across Irene who tries to abandon her baby and as Owen carries the child she follows at a distance. Avoiding the Russians who seem to rampaging across Czechoslovakia they try and avoid being caught up and split up.While they are walking and resting we see the fragments of memory Owen has as he tries to work out how and why he is looking for his brother Max. We also see the back story between Owen, his brother and a woman called Connie but the picture just is not clear enough for him. It is at the end when all the memories really start to fall in to place he can truly see the full picture before he goes home.Throughout the book we get a view of what it was like in April and May 1945 as refugees and displaced persons wandered across Europe trying to find home, if they had a home and family left. Like Owen's mind the whole of mainland Europe is fractured and trying to find their way home, and looking for redemption at the same time.Devastation Road will be especially poignant for those families such as mine that were fractured during the war, being from a Polish family some of this is very familiar to me. I have heard the stories of part of my family being displaced persons, others in 'exile' in Siberia while my Grandfather was fighting to liberate Europe. Devastation Road describes three people's search for redemption that takes them many miles and for Owen will take him full circle. There is a stop off point at a camp which is Bergen-Belson and some descriptions of the problems the medics were having there before Owen is finally moved to a British Military Zone.Jason Hewitt has written an absorbing deeply compelling and poignant story that at times will touch you. He has posed a number of questions such as is redemption possible, where do we belong and who are we? This is a superb read, reminded me of Birdsong even if a different conflict, but Hewitt writes so poetically and delicately you can only enjoy this excellent book.
Also by JASON HEWITT