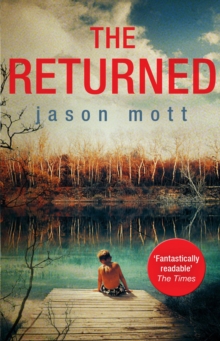 Description
Lucille Hargrave's son has been dead for over forty years.
Now he's standing on her doorstep, still 8 years old.
Still looking for her to welcome him with open arms.
This is the beginning of the Returned. This is a new world where nothing - not even death - is certain 'With fine craftsmanship and a deep understanding of the human condition, Jason Mott has woven a tale that is in turns tragic and humorous and terrifying' Eowyn Ivey, Author of The Snow Child 'Fantastically readable'The Times 'Could be the next Lovely Bones' Entertainment Weekly 'Emotionally resonant' Essence 'Gripping' Shortlist
Information
Format: Hardback
Pages: 352 pages
Publisher: HarperCollins Publishers
Publication Date: 06/09/2013
ISBN: 9781848452145
Free Home Delivery
on all orders
Pick up orders
from local bookshops
Reviews
Showing 1 - 1 of 1 reviews.
Review by shelleyraec
16/06/2015
Jason Mott's debut novel poses explores a compelling premise, what if the people you once loved, and lost, come back?Nearly fifty years after Harold and Lucille's son drowned tragically on his eighth birthday, Jacob is Returned to them having been found alongside a river bank in China. Their son is just one of many who have returned from the dead, as bewildered by their resurrection as are the 'True Living', with no memory of their passing or their absence.The world is torn, are the Returned a miracle or a sign of 'the end of days'? An infection or a blessing? People or monsters? While some welcome the reunion with their loved ones, others shun them. Fear, jealousy, even resentment and regret amongst some of the 'True Living' engenders outbreaks of protests and violence. The American government, unable to explain the phenomena, eventually responds by segregating The Returned, housing them in increasingly overcrowded guarded camps.The Hargraves' story of Jacob's Return is intertwined with tales from other Returned individuals including an artist whose fame came only posthumously, a cluster of Nazi soldiers, a family man and a girl murdered in war torn Sierra Leone. These snippets provide additional perspective and mystery.For some readers the lack of explanation about the how's and the why's of the Returned may be a source of frustration but I was pleased that Mott didn't attempt to make sense of it. There are more important questions to be asked and answered about 'faith and morality, love and responsibility', about humanity and the meaning of life. I was impressed by the way in which Mott navigated issues like religion and more prosaic concerns like the strain on resources resulting from a population explosion.The Returned is a remarkable, captivating read and its questions will haunt you long after you have turned the last page. If your loved one was Returned to you, what would you do?