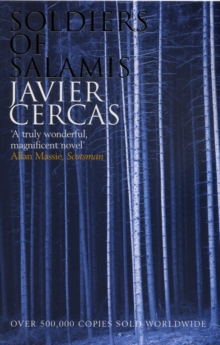 The Soldiers of Salamis
Paperback
Description
In the final moments of the Spanish Civil War, fifty prominent Nationalist prisoners are executed by firing squad.
Among them is the writer and fascist Rafael Sanchez Mazas.
As the guns fire, he escapes into the forest, and can hear a search party and their dogs hunting him down.
The branches move and he finds himself looking into the eyes of a militiaman, and faces death for the second time that day.
But the unknown soldier simply turns and walks away.
Sanchez Mazas becomes a national hero and the soldier disappears into history.
As Cercas sifts the evidence to establish what happened, he realises that the true hero may not be Sanchez Mazas at all, but the soldier who chose not to shoot him.
Who was he? Why did he spare him? And might he still be alive?
Information
Format: Paperback
Pages: 224 pages
Publisher: Bloomsbury Publishing PLC
Publication Date: 01/01/2004
ISBN: 9780747568230
Free Home Delivery
on all orders
Pick up orders
from local bookshops
Reviews
Showing 1 - 2 of 2 reviews.
Review by Jargoneer
16/06/2015
Rafael Sánchez Mazas, writer and leading Falangist, is standing in a field with 49 in Northern Catalonia with 49 other prisoners waiting to be executed. When the firing starts he manages to escape into the forest. Tired and dirty, hidin in a ditch, he is found by a young Republican soldier, who turns and shouts, "There is nothing here".This is the true story that inspires Cercas' novel. Despite the premise and the blurbs on the cover, readers expecting a Spanish Civil War novel will be disappointed, Soldiers of Salamis exists in that grey area between fiction and fact: as much an essay on literature, truth, and memory, than a traditional novel.The novel is split into three sections, which could almost be read individually – although they are linked both by the Sánchez Mazas incident, and thematically.The first section, comic in tone, deals with Cercas, a jobbing journalist and minor (retired) novelist, hearing the story of Sánchez Mazas failed execution by the Republicans, and his tracking down of the family of the men who helped him survive until the Nationalists arrived. At first it remains an idea for an article but gradually becomes an obsession with Cercas – one not shared with his girlfriend, who can't understand why he would be interested in a "fascist shit".The middle section is a novelistic recreation of the failed execution and it's aftermath, that slowly expands into an essay on Mazas as a writer and politician. As a leader of the Falange Mazas certainly helped to create the environment that led to war, using his literary talent to create a 'revolutionary fervour', and can be heard partly responsible for the death of thousands, the deplacement of many others, and the divisions that still haunt modern Spain. On the other hand, as a politican he used his power to save those, and their families, who protected him; he did not use it for revenge or self-advancement - he can't even be bothered to turn up to cabinet meetings and retires to write romantic, pastoral novels. (It is interesting that this is the response of so many authors over the last two centuries – frightened to face the reality of their world writers look backward to an illusory Arcadia). The achievement of Cercas is to create sympathy in the reader for Mazas: the reality is that he never achieved his literary ambition, that he sold his talent to write words that led to misery and death but was not a cruel man, just a fool.In the final section Cercas tracks down, with the help of the great Chilean writer Roberto Bolano, a Republican soldier who he believes may be the one that spared Sánchez Mazas life. It turns out that this man, Enrico Miralles, is a hero - perhaps not the hero of the Sánchez Mazas incident but a man who fought for democracy at home; with the Free French in North Africa against Mussolini; in Normandy and Germany against Hitler.Sánchez Mazas propagated the fascist myth of the squad of soldiers who saved civilisation at the 11th hour, like the Athenian soldiers at Salamis, but in reality this squad was made up of men like Miralles who fought against everything the Falangists believed in. This section returns, intially, to the comic tone of the first section but ultimately moves beyond it, becoming both profound and moving.Soldiers of Salamis is, in turn, comic and serious, thought-provoking, and, ultimately, moving.Recommended ****
Review by eapalmer
16/06/2015
My son gave this book to me to read after he read it for a course on the Spain Civil War. I thoroughly enjoyed Cercas' exploration of the writing process, how history is done, and memories are made. I wish I knew more about what was fact and what was fiction--I think it would have given me a deeper appreciation for what Cercas was doing.