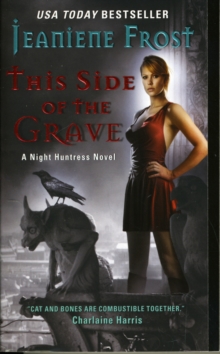 This Side of the Grave: A Night Huntress Novel
Paperback
Description
The highly anticipated continuation of Jeaniene Frost's "New York Times" and "USA Today" bestselling "Night Huntress" series, in which Cat and Bones face an enemy unlike any they've met before.
Information
Format: Paperback
Pages: 384 pages
Publisher: HarperCollins Publishers Inc
Publication Date: 22/02/2011
Category: Romance
ISBN: 9780061783180
Other Formats
EPUB from £5.49
eAudiobook MP3 from £16.76
Free Home Delivery
on all orders
Pick up orders
from local bookshops
Reviews
Showing 1 - 5 of 35 reviews.
Previous | Next
Review by Nikk1s
16/06/2015
I enjoyed TSOTG, but it's not the best of the series. It was slow paced and relatively anti-climatic. It served to show how the characters are maturing and give direction for the series in the future. It's like a bridge from the immature, impulsive, quick trigger Kitten, to the mature fighter/lover/wife Cat. Bones shows us once again why he's so incredible. The humor and one liners made it a fun read. I felt like a lot of focus was given to Vlad to possibly create interest in the next VH World book that will feature him. I really liked the inclusion of Veritas. She's a powerful ancient and I can't wait to learn more about her.
Review by age51179
16/06/2015
So just finished the latest Jeaniene Frost "Cat Crawford" book. Quick read a little lackluster compared to her previous books. I felt built up and let down by a blah ending. Did she have a head cold when she wrote this one? I am hoping that this was just a build up to her Fall 2011 book that is coming.
Review by ABookwormsHaven
16/06/2015
We are back with Cat and Bones again and now they are facing off with the ghouls. We pick up pretty much where we left off which made for a smooth transition from the last book. It had been a while since I had read the previous book, but with Cat and Bones it is easy to slide right back into their lives and fall in step with them.One of the surprising elements in this book for me was the level of irony. Or maybe throwback is the right word, not so sure right now. There were so many events happening to others that mirrored Cat and Bones struggles it made her roll her eyes, and it made me laugh. Cat looked at her life through fresh eyes and those moments made it fun for the reader to reflect back on past events as well.One element I have always adored about these book is their humor. Cat's inner dialogue is always entertaining to me and her quick wit always makes me laugh out loud. My two favorite quotes in this book come from two other characters though, Bones and Vlad.First up is Bones. Timmie (remember him from earlier books? He makes a quick appearence) he asks Bones:"Before we go, I gotta know: If mind reading-abilities are real, there's something else I wondered if fiction got right about vampires–"Bones response:"Ask me if I sparkle and I'll kill you where you stand!"I think I laughed for a minute straight after that one. Can't you picture Bones saying that? I can. Not to be outdone though is Vlad, he is in the middle of torturing some ghouls with his pyrotechnic abilities when he hesitates a little.Cat says: ""What the hell was that?" I gasped"Vlad's reply: ""Premature inflamulation," he replied. "Happens sometimes. Very embarrassing, I don't like to talk about it."Seriously, that guy is hysterical. I can't wait until we get to read his story! I love Vlad, no matter how tough he tries to make everyone think he is, I think he is sentimental deep down. I will have to wait for his books to see though.I have always enjoyed the humor that laces through this series and this book just proved to me how good Jeanine is at mixing multiple genres. I don't think you can categorize this series into just one genre, because it is paranormal and of course the romance is there with Cat and Bones, but they are also pumped full of action and humor, they cross multiple genre boundaries which is why this series is one of my favorites!I will leave you with something to look forward to when you get your hands on this book and it is this: Chapter 21 and candles. Enough said. Too cryptic for you? I bet you can riddle it out and if not, go get the book and discover it for yourselves! I am sure you will be very happy once you do
Review by bibliophile.brouhaha
16/06/2015
BTW - GIVEAWAY on my blog for a signed copy of TSOTG going on right now!Oh my God! My little Kitten is all grown up!You think I jest, but I am COMPLETELY serious. TSOTG presents us with a Cat that has matured considerably from the Cat whom we've seen in the past four books. She's still tough as hell and won't hesitate to liquidate any threats to her and her loved ones, but this Cat seems to weigh her possible decisions and their consequences a lot more thoroughly than she did previously did. You would think that becoming a full-on vamp would free her from such pesky mortal concerns; on the contrary, now that she is armed with the knowledge that she could live thousands of years, she seems to be more conscientious with her actions and how they could affect those she cares for. After all, one wrong move. . . well, she's got a long time to live with guilt.The maturity extends to her relationship with Bones, who, as always, is still ***NomNomNom*** and delivers the best lines that melt this SqueeGirl's heart. Observe:"No matter what happens, you will never lose me," he whispered. "I am forever yours, Kitten, in this life or the next."-page 245I don't how to explain it other than Cat really becomes brave and honest about her love for Bones in this one. . . in some ways, it makes their passion for each other seem a little quieter than in the previous books, but it's a beautiful sort of quiet that only comes from true intimacy and acceptance of the other. Rest assured that this quiet does not extend to the bedroom scenes ***blushes***. I totally would elaborate on that, but since my blog typically focuses more on the YA side of things, I'll be a bit demure on the subject. . . let's just say the that Cat really compensates for an anticipated prolonged absence ;)Now, you can get the jist of what happens from the synopsis, but here are SOME things you can count on:***We knew Marie/Majestic was crazy like a fox from DFAEG, but we really get a true grasp of how far her deviousness and ruthlessness can go in this one. That girl is not a chess player - she owns the freaking board!***Um, if you thought that Cat's acquiring and handling of Mencheres' and Vlad's powers was something to see, you ain't seen nothing yet.***Vlad is back and awesome as always. IMO, he has the best one-liners in the book.***A certain someone is back from HTTG.***No Annette and little Ian, but he makes the most out of his fabulous line.***More Mencheres and Kira, and Denise and Spade! And I just love how Mencheres is showing different parts of his personality! I actually liked him better in this one than Spade!***Justina does her level best to give Cat heart failure with her new career choice. Unfortunately, Cat's heart breaks due to another family member. . . ***We learn a little more personal information about Tate that I found very revealing. . made me have some real sympathy for him.***Jeaniene is wonderful and gave a preview of Book #6, One Grave at a Time, at the end of this one (expected publication in September 2011).I really enjoyed TSOTG. There was action and intrigue, as always, but somehow this book seemed a little quieter in tone than the first four, and there was certainly less drama between Bones and Cat. This book, out of all them, really felt like it was Cat's book, too, and not so much the story of Cat & Bones' relationship. Maybe it's due to the growth and maturity that Cat and Bones have found in each other, but I also felt that this book may be a bridge of sorts to things that are coming - a quiet before the storm, if you will. Cat did some real introspection in this one, particularly about her feelings towards Bones – it felt like foreshadowing to me, and it made me so incredibly anxious for book #6.
Review by crazybatcow
16/06/2015
This is the 3rd book set in this world that I've listened to in audio format - this is the first time I've been a bit "annoyed" with the narrator's "dramatization" of certain events, particularly fight and sex scenes. The narrator gets too excited, and her voice gets too high and squealy to make these scenes sound natural. Outside of these tense moments, however, though, the narration was fine and the characters are very distinctly read.There was a "family" thread to the story which I think was there to bring us closer to Kat, but I didn't like it. I don't read vampire romance novels for touchy-feely family reunion type stuff, I read it for the butt kicking (and can put up with all the porn if I have to). This one didn't have a lot of porn though, really, just one scene that was too long, the rest were quick and non-detailed. There were a handful of pretty funny scenes/lines which I enjoyed, and Vlad was fun, but overall - excluding book 3 of the series which was just ridiculous- I think it's the weakest of the 7 books set in this world.