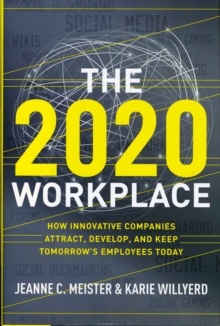 The 2020 Workplace : How Innovative Companies Attract, Develop, and Keep Tomorrow's Employees Today
Hardback
Description
The workplace of the future is being shaped today by Web 2.0 - a collection of breakthrough social media technologies - and the Millennial Generation, born after 1980.
The entrance of these hyper-connected workers will put increased pressure on employers to overhaul their approach to talent management. "The 2020 Workplace" offers a practical game plan companies can use to transform their business; achieve compelling business results, such as increased innovation, improved customer connectedness, and engaged employees; and, compete more effectively in the global marketplace.
Based on key findings from two surveys of global professionals, as well as case studies from organisations like Deloitte, Cisco, Bell Canada, Jet Blue, Nokia, and NASA, this book shows how the same social technologies that are used outside the company in marketing to connect with customers can be adapted for use inside the company to connect with employees.
Jeanne C. Meister and Karie Willyerd include real-world examples of these practices in action, including a YouTube new-hire orientation contest, use of Twitter for sourcing job candidates, and a video game for new hires. In addition, the authors offer 20 predictions for the 2020 workplace and a glossary for those who have never texted, posted...
Information
Format: Hardback
Pages: 304 pages, Charts, Graphs, Black and White Photos throughout
Publisher: HarperCollins Publishers Inc
Publication Date: 01/06/2010
Category: Business strategy
ISBN: 9780061763274
Other Formats
EPUB from £9.99
eAudiobook MP3 from £17.49
Free Home Delivery
on all orders
Pick up orders
from local bookshops
Reviews
Showing 1 - 2 of 2 reviews.
Review by ebnelson
16/06/2015
In their sophomoric piece akin to novice science fiction, Meister and Willyerd simply look at the hot topics and trends in the past three years and project them into the future. The book is flawed for several reasons, mostly due to the authors' faith that the management style they describe would actually be viable in a world where shareholders demand results and hold tightly onto purse strings and employees demand a sense of real community—not just a mere online social network.Cherry picking for the most blatantly stupid idea, I'll cite one of their 20 predictions as a clear example of how their clairvoyance lacks depth: "The corporate curriculum will use video games." If you look at corporate curriculum today, it's dominated not by video (which one would expect since video has been dominant in culture for over a half century) but rather by PowerPoint presentations and Flash software simulations. Manuals (though often distributed online) are still prevalent. Why hasn't video taken over corporate training? Cost. It's very pricey to make quality video, so with few exceptions the only ones that are in use today are introductory trainings for a very wide audience. Now, if videos are too expensive, imagine the dollar signs with developing a video game for your division's on-boarding. It would never get past the initial proposal.Again, flying in the face of reality, contrary to Meister and Willyerd's predictions, employees will not be able to trump shareholders' wishes for who leads them. Democracy is a great idea, but its place is in the boardroom—not the cubicles. Finally, the authors envision a world where social networking is totally integrated into business life, with a "culture of connectivity" and the "ubiquity of mobile technology" blurring the boundaries between home and office and allowing hyperconnected employees to get their social networking fix. Again, I can't see it. Companies are already struggling to keep employee productivity at reasonable levels as employees access Facebook and YouTube with their mobile 3G and 4G networks, bypassing their employers' Internet filtering. Without some major innovation which doesn't impede on an employee's right to use their mobile device, employers are going to be hesitant to encourage employees into social networks which—although promising—are their biggest threat to keeping employees on track.In the end, it's clear that much of the appeal here is the shocking predictions that are better aligned with the current zeitgeist than with the money-centered realities of businesses. The authors would be well to reflect on the fact that social networking is still quite new and it's not known whether Facebook's meager replacement for face-to-face community will be sustainable for a decade—or if a backlash and exodus will occur before as people realize that their social needs aren't actually being met and instead people return to relying on the workplace as a primary place where those needs are met—another dynamic which would prevent the distributed workplaces predicted from becoming a wide-spread reality.
Review by westfargolibrary
16/06/2015
Workplace demographics are changing. Millennials (those born 1977-1997) currently make up 22% of workers today, however that number is predicted to rise to 47% by 2014. The authors predict that workers of the future will be hired and promoted based on their activity on social networking websites such as Facebook, Twitter, Delicious, and YouTube. The authors also predict that the social networking websites will be used for recruiting. The 2020 Workplace is an introduction to changes that are already taking place in the workplace.
Also by Jeanne C. Meister