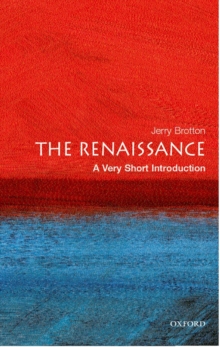 The Renaissance: A Very Short Introduction
Paperback
Description
More than ever before, the Renaissance stands as one of the defining moments in world history.
Between 1400 and 1600, European perceptions of society, culture, politics and even humanity itself emerged in ways that continue to affect not only Europe but the entire world.
This wide-ranging exploration of the Renaissance sees the period as a time of unprecedented intellectual excitement and cultural experimentation and interaction on a global scale, alongside a darker side of religion, intolerance, slavery, and massive inequality of wealth and status.
It guides the reader through the key issues that defined the period, from its art, architecture, and literature, to advancements in the fields of science, trade, and travel.
In its incisive account of the complexities of the political and religious upheavals of the period, the book argues that Europe's reciprocal relationship with its eastern neighbours offers us a timely perspective on the Renaissance that still has much to teach us today.
ABOUT THE SERIES: The Very Short Introductions series from Oxford University Press contains hundreds of titles in almost every subject area. These pocket-sized books are the perfect way to get ahead in a new subject quickly.
Our expert authors combine facts, analysis, perspective, new ideas, and enthusiasm to make interesting and challenging topics highly readable.
Information
Format: Paperback
Pages: 160 pages, 20 halftones
Publisher: Oxford University Press
Publication Date: 27/04/2006
Category: Renaissance art
ISBN: 9780192801630
Other Formats
EPUB from £5.19
PDF from £5.19
Free Home Delivery
on all orders
Pick up orders
from local bookshops
Reviews
Showing 1 - 4 of 4 reviews.
Review by jcbrunner
16/06/2015
Holbein's The Ambassadors guide the reader in this excellent introduction to the Renaissance, variously defined as the years 1400-1600 (Early Modern), 1300-1650 (art history), or 1500-1650 (English literature). The period mirrors its famous interpreters like a Rohrschach test: Jules Michelet (republican Paris), Jacob Burckhardt (cultured Basel), Walter Pater (hedonistic Oxford), Johan Huizinga (continuity Leiden), Hans Baron (exile and transformation), Stephen Greenblatt (self-conscious Berkeley). As Renaissance Art is covered by a separate title, the six chapters concentrate on global expansion, humanism, religion, discovery, science and literature.Using Bellini's Saint Mark Preaching in Alexandria as a prop, ch. 1 Global Renaissance presents growing Europe's cultural and commercial exchange with Ottoman Empire, Africa, Asia and the New World, its exploration and exploitation, the increase in trade and the development of finance. Ch. 2 Humanist Script examines humanism, both as a quest for individual truth and as a marketable education.The revolutionary social aspect of the printing press created the first "bestsellers" from Petrarca, Erasmus, Luther, Machiavelli and More. In ch. 3 Church and state shows the church in decline, the state on the rise. While religion is losing its all-encompassing grip, it continues to play a central role in life and the bloody conflicts triggered by the reformation (and the counter-reformation). Ch. 4 Brave New World offers a glimpse at the age of discovery and its newfound passion for maps. For the natives of the discovered territories, the age was dire: America's population shrank from 80 to 10 million and the transatlantic slave trade began. Ch. 5 Science and Philosophy highlights the firework of discoveries in science such as Copernicus' Revolutions of the Celestial Spheres (which coined 'revolution'), Vesalius's On the Structure of the Human Body, or Mercator's 1569 world map. Ch 6 Rewriting the Renaissance tries and fails to introduce the period's literature from Petrarca to Shakespeare due to the different time frames for each language. Highly recommended.
Review by anthonywillard
16/06/2015
A revisionist attempt to introduce the Renaissance, interpreting it in terms of Islam, absolutism, and greed. It is ambiguous about whether the Renaissance is an identifiable period or not. The author exhibits an attitude of contempt toward most of the leading figures of the period, its institutions, and its popular movements. There are frequent factual errors and contradictions. What the author is good at is using detailed analysis of works of art to illustrate more general aspects of culture and society. This type of exegesis makes the opening chapter a much better read than the remainder of the book. I can't recommend this volume to anyone, but I especially discourage anyone who has little or no background in the period from relying on Botton for an introduction.
Review by Scapegoats
23/09/2015
This is exactly what the title says it is - a very short introduction to the Renaissance. I love this series because it lets me quickly brush up on some areas of history. This one is a little more scattered than some others I've looked at, but that reflects the big subject that it entails. Brotton talks about humanism, exploration, art, science and printing. He tries to keep them tied together although the connections sometimes go by the wayside.There were three key issues that I found most interesting. The first was humanism, which is very difficult to define. But it looks like it is the basis for modern liberal arts education, which values a well-rounded education as a way for self-cultiavation more than a vocational education to gain a livelihood. The author notes, however, that the ideals we sometimes attach to humanism (representative government, freedom, equality) are something we project back on the period. Humanists were as likely to work for tyrants as not. The paycheck was more important than the message.Brotton also points out that the Renaissance was not a purely European phenomenon that shows its superiority. It was heavily influenced by earlier learning from the muslim world and India, but then built on that. He also shows that there was no clear idealogical divide between Christian and Muslim at this time, as Europeans routinely allied with Muslim powers if they had a common enemy.Printing was also crucial to the Renaissance. Literacy was improving and many writers began writing in the vernacular rather than Latin or Greek. Science, poetry, novels and news were all distributed much more widely than was possible before the printing press. This meant that ideas could travel further and quicker than before, bringing more people into the creative process, which promoted more advances.He then goes on to show the changes of the Renaissance helped promote the art we associate with it so stronger. And it promoted the oceanic exploration which would eventually lead to a much more integrated Euroasian-African economy. It also fostered religious change with the Protestant Reformation and the subsequent Catholic Reformation.If this review seems disjointed, then it accurately reflects the book. Brotton has done an excellent job of explaining a huge phenomenon in a very short space. There was no way to avoid it seeming a little scattered. Yet it is still worth reading if you want a primer on the subject.
Review by MarcusBastos
16/06/2015
The book is well written and examine importants aspects of Renaissance. An introduction that gives the reader (or the listener) a glimpse into the historical facts of the time and the literary and artistics works produced. Short book with valuable informations.
Also in the Very Short Introductions series | View all