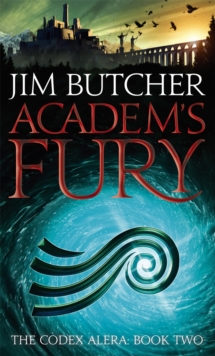 Academ's Fury : The Codex Alera: Book Two
Paperback
Description
For centuries, the people of Alera have relied on the power of the furies to protect them from outside invaders.
But the gravest threat might be closer than they think.Tavi has escaped the Calderon Valley and the mysterious attack of the Marat on his homeland.
But he is far from safe, as trying to keep up the illusion of being a student while secretly training as one of the First Lord's spies is a dangerous game. And he has not yet learned to use the furies, making him especially vulnerable.When the attack comes it's on two fronts.
A sudden strike threatens the First Lord's life and threatens to plunge the land into civil war.
While in the Calderon Valley, the threat faced from the Marat is dwarfed by an ancient menace. And Tavi must learn to harness the furies if he has any chance of fighting the greatest threat Alera has ever known . . .
Information
Format: Paperback
Pages: 640 pages
Publisher: Little, Brown Book Group
Publication Date: 01/06/2009
Category: Fantasy
ISBN: 9781841497457
Free Home Delivery
on all orders
Pick up orders
from local bookshops
Reviews
Showing 1 - 4 of 4 reviews.
Review by reading_fox
16/06/2015
Better, but still highlighting some of Jim Butcher's most annoying writing tendencies. Fortunetly we are spared the worst of the fantasy cliches that I had been expecting.At the end of the last book out pigboy orphan hero Tavi had been sent to the Acadamy - school for the gifted in other words. I was horribly expecting this to be another of the standard oh how rough life at school can be growing up amoung those more gifted than you but by hard work you will perserve and show yourself better HP clone stories. It isn't. Not in anyway, hardly any of the lessons or exams get mentioned at all, the book picks up the tale in Tavi's final year and we only have a few brief run-ins with other pupils. It is a convenient plot device to get Tavi a few more helpers, which is lucky because the world is suddenly rife with evil do-ers again. The First Lord Gaius' health is suspected of failing and without an heir his sucessor could come from any of the other High lords, and so they are competing to bring him down - a process that will lead to civil war throughout the kingdom.We know this because we also follow Bernard and Isana in alternating chapters. Each of which including Tavi's ends in particlarly annoying clifhanger fashion. Much as if Jim is actually writing for a TV series and is including suitable pauses for the ad-breaks - a fault that permeates his Harry Dresden books too. This also means that there is almost continual action, the scenes are fast paced with heors leaping fr fat to fryingpan to fire to ... well you get the gist. Fidaelus appears finally to be a main character in his own right, with several scenes of attention - disconcerting at first as it is revealing the enamies plans to rthe reader that the hero doesnt know. But improving throughout the book as the moral quandries start to accumulate. What is best for the nation - is it really treason when the old lord is not doing all he can? Hopefully this will be much more developed in the later books.An enjoyable sequel with plenty ofhooks forthe next in the series. Not exactly gripping reading, but high octane.
Review by AzhriaLilu
16/06/2015
I'm a big fan of Jim Butcher and am happy to admit to it. I first discovered him (like many others) by picking up his Harry Dresden series. When I discovered he'd also written a classic fantasy novel - Furies of Calderon - I was very excited,,since classic fantasy is one of my loves. This, the second book in the series, is where the story really gets moving. Book one is more of a scene setter, introducing the characters etc, but Academ's Fury just blew me away. The characters have depth and are completely three dimensional, and the story leaves you with the desire to read on and find out what's happening.Fantastic work and I can't wait for the fifth book (at this time of writing) First Lord's Fury.
Review by eleanor_eader
16/06/2015
Two years into the Academy, and Tavi still can't furycraft. He is, however, being trained in secret as a Cursor, a spy for the realm. An insidious, deadly enemy endangers Alera on two fronts, and Tavi must somehow protect an incapacitated First Lord while his uncle, Count Bernard, and the Cursor Amara are facing the emerging horror with only a handful of troops back at the holmstead. Isana, desperate to help her family, is forced to change allegiance to get aid to either of them; the Aquatines and Fidelias have not forgotten their plans for the First Lord, but a rival gaining the upper hand in the midst of the confusion is not in their interest. Political mayhem and bloody desperate battles form about two thirds of this second book in the series – the other third is made of some magic blending of character growth and interaction, humour and engaging moments from peripheral and main characters alike; Kitai, the Marat girl, has her own reasons for watching over Tavi… their relationship reminds me of C'Nedra and Garion, from Edding's <i>Belgariad</i> series (if, y'know, Eddings had bothered plotting individual books). Kitai's father, Doroga, faces down the terrifying vord astride Walker, his implacable gargant, possibly my favourite fantasy fiction animal sidekick. Tavi's fellow trainee, Max, desperately flirts with the First Lord's wife, while attempting to convince her and the rest of the realm that he is, in fact, the ruler himself.These books are relentless, but a lot of fun. I can't wait to see what sort of madness is in line for Tavi next.
Review by JR.Raluces
16/06/2015
The second installment from Jim Butcher in the Codex Alera series, and it didn't disappoint after an excellent introudction in the first book! Different from the first, it's set two years later, with a more political tone, but the same excitement, danger and intrigue! Butcher manages to combine a developing love story, political intrigue, a new enemy in the Vord, whilst maintaining the deception, battles and tactics seen in the first. The battle scenes are cleveryly written, tense, and gives a real sense of the fight tyhe characters find themselves in. The key battles told by the main protagonsists, from 4 key perspectives, all add to bring the story together, and the 'magic' of the furies and the abilities they bring to the humans often take a back seat, and is shown to be no substitute for a sharp, clever and intelligent mind. The furies ability cannot be relied or dependent upon alone as the battles develop, and goes to highlight that the main character Tavi (who is the only Alera character yet to develop any magic or furies relationship) can hold his own. Whilst all this is going on, Butcher with his skill and understanding, still gives glimpses into the 'big picture' that he is writing to. Suggestions, comments, characters thoughts all go some way at random times to leading to this bigger picture which leaves you guessing and trying to work out! The idea that Tavi is the only one in Alera without this magical connection to the Furies, but constantly escapes situations, realises things that his 'instincts' tell him, suggests to me the possibility of potentially a new type of fury not seen or known in Alera before? Then the obvious but unknown link between Isana, Tavi and the First Lord Gaius only leaves me wanting to read more! So onto the third installment soon..........and I can't wait!
Also in the Codex Alera series | View all