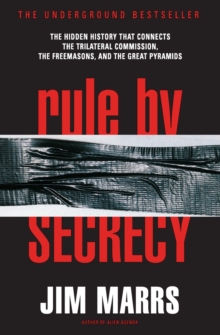 Rule By Secrecy: h
Paperback
Description
What secrets connect Egypt's Great Pyramids, the Freemasons, and the Council on Foreign Relations?
In this astonishing book, celebrated journalist Jim Marrs examines the world's most closely guarded secrets, tracing the history of clandestine societies and the power they have wielded - from the ancient mysteries to modern-day conspiracy theories.
Searching for truth, he uncovers disturbing evidence that the real movers and shakers of the world collude covertly to start and stop wars, manipulate stock markets, maintain class distinctions, and even censor the news.
Provocative and utterly compelling, Rule by Secrecy offers a singular worldview that may explain who we are, where we came from, and where we are going.
Information
Format: Paperback
Pages: 480 pages
Publisher: HarperCollins Publishers Inc
Publication Date: 24/04/2001
Category: Humamities
ISBN: 9780060931841
Free Home Delivery
on all orders
Pick up orders
from local bookshops
Reviews
Showing 1 - 5 of 20 reviews.
Previous | Next
Review by bug_girl
16/06/2015
It's really hard to separate out my reaction to this book from what was going on in the world when I read this book. The backdrop to my reading was earthquake, tsunami, and nuclear disaster. What I read about was terror, dismemberment, and total loss of control in a world that had gone mad.The format of individual stories was more engrossing than I expected.
Review by bobmoore
16/06/2015
I have watched many zombie films, and tried to read a few zombie novels. I received this as a gift and found it more readable than the others. It is fairly imaginative, though much of what it envisions has been revealed in movies, and another plot twist strikes me as chemically unlikely (freezing and thawing zombies). It is a series of vignettes, short interviews, showing the war through the eyes of those who fought or simply survived the zombie (invasion doesn't seem like the right word) surge. It doesn't take long to read, as there's no attempt at wordsmithing; no one is going to give this book kudos for its contributions to the English language.
Review by bookworm12
16/06/2015
Marina works at the Hermitage in Leningrad during World War II. Her fiancé Dmitri leaves to fight at the front in the war, while Marina is trapped in the Russian city during the Siege of Leningrad. She and her aunt and uncle must move into the Hermitage with dozens of others. They are all staving to death, trying only to survive. The secondary plot deals with Dmitri and Marina's adult daughter Helen and her struggle with her parents' declining health. Marina has Alzheimer's and as she looses her recent memories, those long buried memories from the war come to the surface. The combination of the war story and modern day disconnect between children and their parents works well. Immigrants who survived horrific events during the war don't often want to rehash their heartbreak, but their children may not understand how their current actions have been formed by their past experiences if they never share them. I felt like the book was a bit short. There are so many more details that could have been included. I loved learning about the real events that happened during the siege. It's a fictional story, but the author did some excellent research. I had no idea about this whole part of WWII and I'm still curious about it. BOTTOM LINE: A short but powerful story of the Siege of Leningrad. Read it if you are interested in learning more about WWII in Russia. "Hunger has eaten away the veneer of civilization, and people are not themselves.""Over the years, they have grown together, their flesh and their thoughts twining so closely that he cannot imagine the person he might be apart from her." 
Review by suztales
16/06/2015
I have a hard time understanding all the 4-star ratings. It was difficult to stick with this book to the end. Parts of it were boring, all the detailed art in the museum, etc. It skipped back and forth from present to past too many times. The story was poignant and sad, and the trauma the Leningrad population suffered was well described. It was not my favorite read that's for sure.
Review by mks27
16/06/2015
I greatly enjoyed this one. The themes involve memory, beauty, art, deprivation, love, the body and our physical needs, and the relationship between generations in a family. The author moves us back and forth in time from present day to the siege of Leningrad in the 1940's. It is a love story on many levels. Marina and Dimitri are childhood friends who fall in love and become engaged before he leaves for the front. She stays to protect the Winter Palace and the Hermitage Museum where she works and takes shelter. What ensues is inspiring and heartbreaking. While this story is being told, we also find the couple in their later years living in the United States and coming to terms with Marina's declining memory in which her starving time at the Hermitage is more present to her than the present. 4 stars