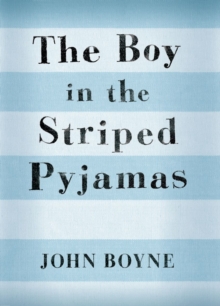 Rollercoasters : The Boy in the Striped Pyjamas Reader
Paperback
Information
Format: Paperback
Pages: 192 pages
Publisher: Oxford University Press, USA
Publication Date: 01/06/2007
Category: Language: reference & general
ISBN: 9780198326762
Free Home Delivery
on all orders
Pick up orders
from local bookshops
Reviews
Showing 1 - 5 of 34 reviews.
Previous | Next
Review by mcgarry
16/06/2015
Yr 11 - Yr 12.The Boy in the Striped Pyjamas is told from the perspective of Bruno, a nine-year-old boy forced to leave his home in Berlin to live with his family in a strange and unwelcome environment. The only friend he finds in his drab new home is a little boy, Shmuel, separated from him by the big fence that separates Bruno's world from the very peculiar place on the other side.
Review by StuartAston
16/06/2015
How to describe this without giving too much away for those that have not read it??? Bruno (the main character in the book) has to move from Berlin with his family and leave his way of life and friends. He moves to a place where there is no one his own age to play with until he meets Shmuel and then does not want to go back to Berlin.You see through the book how the world can treat two children of the same age quiet differently. And how the need for a friend can lead to the ultimate of consequences. The book starts off as a normal childhood story but then drags you into the final "how could that happen" gasp on the last page. It is a page turner but in the most thought provoking way....a definate book to read.
Review by davelanigan
16/06/2015
One of my all time favorite books. Very easy to read and holds a true emotion throughout. The perspective was both refreshing and insightful.
Review by queetko1
16/06/2015
Sensitively writen story about nine year boy Bruno who builds a friendship with a boy who lives behind the wire fence...Set in the second World War Bruno is a son of a Nazi leader who moves with his family on a site of a concentration camp in Poland. Curious Bruno soon meets a Jewish boy Schmuel but they can`t play together. With his naivity he doesn`t understand the serious situation and feels as a prisoner himself, in his own home. From the naive point of view of an innocent child this story makes this war tragedy very powerful. The book is aimed at older children`s readers but is fully enjoyable by adult readers as well.
Review by Liciasings
16/06/2015
A sad sad story. Powerful, shocking, well-told, captivating. That said, I don't know how well it would do as a movie; I'm glad I read the book, but don't think I'll see the movie. Here's why. This story is told in that wonderful first-person style that has at least 2 layers that drag you into the story. The first layer is getting to know the character himself - in this case, Bruno. Seeing him grow and change and see and think and analyse his world, getting to know him and his story. But the thing that adds another layer to the storytelling is the way that, as a reader, you have to unpack and infer what's actually going in the world around Bruno by interpreting his innocent words, assumptions, understanding, through your own knowledge. This adds so much more mystery to the book, and I don't know if that would come accross well on film. Anyway, it is well written and easy to read, captivating, and very sad. I recommend it, but probably won't read it again for a very very long time!Other excelolent books (on totally different topics) with this same double-layer first-person writing style that I highly recommend: The Curious Incident of the Dog in the Night time (by Mark Haddon), and The Speed of Dark (by Elizabeth Moon)