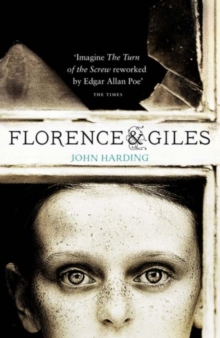 Florence And Giles
Paperback
Description
A sinister Gothic tale in the tradition of The Woman in Black and The Fall of the House of Usher 1891.
In a remote and crumbling New England mansion, 12-year-old orphan Florence is neglected by her guardian uncle and banned from reading.
Left to her own devices she devours books in secret and talks to herself - and narrates this, her story - in a unique language of her own invention.
By night, she sleepwalks the corridors like one of the old house's many ghosts and is troubled by a recurrent dream in which a mysterious woman appears to threaten her younger brother Giles.
Sometimes Florence doesn't sleepwalk at all, but simply pretends to so she can roam at will and search the house for clues to her own baffling past.
After the sudden violent death of the children's first governess, a second teacher, Miss Taylor, arrives, and immediately strange phenomena begin to occur.
Florence becomes convinced that the new governess is a vengeful and malevolent spirit who means to do Giles harm. Against this powerful supernatural enemy, and without any adult to whom she can turn for help, Florence must use all her intelligence and ingenuity to both protect her little brother and preserve her private world.
Inspired by and in the tradition of Henry James' s The Turn of the Screw, Florence & Giles is a gripping gothic page-turner told in a startlingly different and wonderfully captivating narrative voice.
Information
Format: Paperback
Pages: 240 pages
Publisher: HarperCollins Publishers
Publication Date: 01/03/2011
Category: Historical fiction
ISBN: 9780007315048
Free Home Delivery
on all orders
Pick up orders
from local bookshops
Reviews
Showing 1 - 4 of 4 reviews.
Review by Fluffyblue
16/06/2015
The Amazon reviews had said that this book was quite frightening - I didn't think it was, but having said that the story was intriguing and the characters were well set out. Although the book was not scarey, it was tense and I really enjoyed it.
Review by debutnovelist
16/06/2015
fabulous gothic tale whose heroine has auniquie and unforgettable voice. But should we believe her? The author keeps us guessing to the end.
Review by eleanor_eader
16/06/2015
The persuasive, yet seemingly not quite reliable young narrator, Florence, a fetchingly odd twelve year old whose days revolve around smuggling books from the library as she has been forbidden to learn to read, lives with her brother Giles at Blithe House - <i>'…a house uncomfortabled and shabbied by prudence, a neglect of a place, tightly pursed (my absent uncle having lost interest in it), leaked and rotted and mothed and rusted, coldly draughted, dim lit and crawled with dark corners…'</i> - the home of the uncle they have never met, with a few servants and the occasional governess. But the previous governess perished in an accident on the lake, and the latest - Miss Taylor – has aroused suspicion in Florence of sinister motives upon her arrival, being far too interested in Giles for Florence's peace of mind.I loved this book for the fun that Florence has with language, for the sinister atmosphere aroused, the creepiness first peeking through Florence's observations and then asserting itself much more authoritatively, and for the unfolding of the mystery - John Harding doesn't over-clue the reader, but gradually allows us to intuit the motives and actions in Florence's narration – and, of course, for poor gallant, clumsy Theo, the gangly boy who steals kisses in exchange for poetry and who Florence describes as being 'like a huge epileptic heron'.I haven't read <i>The Turn of the Screw</i> by Henry James <i>yet</i>, it's one of my overlooked-for-no-good-reason classics. So, since other reviewers have pointed out strong ties (homage, retelling, reworking or revisiting, I didn't want to spoil either book for myself, so didn't dig too deep) there is at least one layer of story here that I've missed; hopefully I can still enjoy that aspect in retrospect.Meanwhile, the book that <i>Florence and Giles</i> most reminds me of, is <i>We Have Always Lived in the Castle</i> by Shirley Jackson. It is paradoxically a <i>lovely</i> story and an awful one simultaneously, and the most fun I've had reading for a long time.
Review by devenish
16/06/2015
Florence and Giles are orphans who have been given refuge by an absent Uncle in his large but uncared-for mansion. With only the servants as company their time is largely their own. The only rules seem to be that they are not to be taught to read or write. Florence the elder child discovers a large library in the house and sets out to teach herself.A Governess arrives to take charge of the children but soon a tragedy occurs when she dies by drowning in a nearby lake. Soon another and more formidable Governess arrives and things begin to descend into darkness and evil. In many ways this is a similar story to Henry James famous 'The Turn Of The Screw ',but with certain subtle differences. One of the joys of this book is the rather strange but rather wonderful speech pattern which Florence tends to use as her secret language.