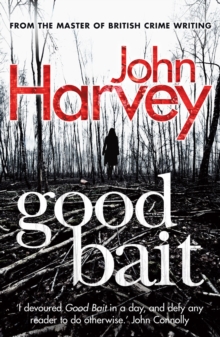 Good Bait : Utterly compelling - this is police procedural at its best
Paperback
Description
When a seventeen-year-old Moldovan boy is found dead on Hampstead Heath, the case falls to DCI Karen Shields and her overstretched Homicide & Serious Crime team.
Karen knows she needs a result. What she doesn't know is that her new case is tied to a much larger web of gang warfare and organised crime which infiltrates almost every aspect of London society.
Several hundred miles away In Cornwall, DI Trevor Cordon is stirred from his day-to-day duties by another tragic London fatality.
Travelling to the capital, Cordon becomes entangled in a lethally complex situation of his own.
A situation much closer to Karen's case than either of them can imagine...
Information
Format: Paperback
Pages: 416 pages
Publisher: Cornerstone
Publication Date: 17/01/2013
Category: Crime & mystery
ISBN: 9780099568599
Free Home Delivery
on all orders
Pick up orders
from local bookshops
Reviews
Showing 1 - 3 of 3 reviews.
Review by maneekuhi
16/06/2015
"Good Bait" by John Harvey is a stand-alone novel written by the highly regarded author of the Charlie Resnick series, a number of single novels and two or three other series. He won a Dagger for the first in the Resnick series, Flesh and Blood. GB has two cop protagonists, Cordon, a police detective on the English sw coast, and Karen, a detective chief inspector in London. Karen's story begins with the discovery of a 17 year old male's body in a frozen pond, and it quickly becomes only one more in an already heavy caseload of unsolved murders. Not much of note happens in Cordon's sleepy little town, until he is approached by a somewhat familiar woman. Years ago, Cordon tried to help a young girl who was on a path to drugs and prostitution, now her mother reports her missing somewhere in London. Meanwhile, new crimes and many new characters surface in Karen's life, and some of the crimes she is working on begin to link to each other. Back and forth the story flows between these two characters. When and how, if ever, will they link up? I had a fair amount of difficulty following the Karen portion of the story - wish I had kept a scorecard of all the characters and their linkages to each other. And there is a fire toward the end that made absolutely no sense to me. But the story was well done, interesting, and moved along at a brisk pace, and had plenty of interesting characters. I'll read another Harvey or two.
Review by Eyejaybee
16/06/2015
In his latest novel John Harvey shows a reassuring return to form.In his famous series featuring Charlie Resnick, the long-suffering, jazz- and cat-loving Detective Inspector based in Nottingham, Harvey showed his deftness at managing multiple plot lines. Here he takes that to a new pitch with one of the most intricate and involved plots that I have read recently, though the quality of his prose, and the intrinsic plausibility of his characters are such that the reader's attention doesn't wane.In Good Bait there are two separate storylines unfolding. Firstly the investigation, led by DCI Karen Shields, into the murder of a young Moldovan man whose corpse is found frozen into one of the ponds on Hampstead Heath. Meanwhile, DI Trevor Cordon, reduced to marking time in Newlyn in Cornwall, is approached by a face from the past when a degenerate figure from his past asks for help tracing her daughter. He finds himself dragged into an uncompromising subculture of drugs and violence as he tries to help.As the story proceeds we see more deeply into the mire of people trafficking and drug smuggling, though, as always with Harvey, there is a marvellous jazz-based soundtrack to ease some of the pain.The plot resolution is deft, and Shields emerges as a fine character in her own right after her earlier cameos in some of the Resnick books. I look forward to reading more about her.
Review by nikon
27/08/2015
Some titles describe the book others don't and some titles have nothing to do with anything 'Good Bait' is a good title but it gets a little over used in the story itself - the story is kinda okay but rambles on too much in places with the old white cop and of course the all new black female cop. The kid in the middle is just there and at times I wish he wasn't - it's not a bad read it's just the title is too good for the book