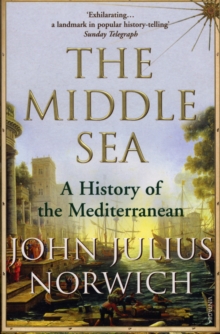 The Middle Sea : A History of the Mediterranean
Paperback
Description
The Mediterranean has nurtured three of the most dazzling civilisations of antiquity, witnessed the birth or growth of three of our greatest religions and links three of the world's six continents.
To the peoples living around its periphery, it has served at various times as a cradle and a grave, a bond and a barrier, a blessing and a battlefield.
It has inspired writers from Homer and Virgil to Norman Douglas and Patrick Leigh Fermor.
Geographically, it is unlike any other sea in the world; in historical importance also, it stands alone.
John Julius Norwich has visited every country around its shores; he has written histories of Norman Sicily, of Venice and of Byzantium.
Now at last he tells the story of the Middle Sea itself - a story that begins with the Phoenicians and the Pharaohs and ends with the Treaty of Versailles. He takes us through the Arab conquests of Syria and North Africa; the Holy Roman Empire and the Crusades; Ferdinand and Isabella and the Spanish Inquisition; the great sieges of Rhodes and Malta by the Sultan Suleyman the Magnificent; the pirates of the Barbary Coast and the Battle of Lepanto; Nelson and Napoleon; the Greek War of Independence and the Italian Risorgimento.
The story ends with the tragic Gallipoli campaign and the war in the desert which brought fame to the enigmatic T.E.
Lawrence.
Information
Format: Paperback
Pages: 688 pages, 32 pp colour and b/w illustrations; 8 maps
Publisher: Vintage Publishing
Publication Date: 05/07/2007
Category: History: specific events & topics
ISBN: 9781844133086
Free Home Delivery
on all orders
Pick up orders
from local bookshops
Reviews
Showing 1 - 2 of 2 reviews.
Review by thorold
16/06/2015
To write a single-volume history of the entire Mediterranean region starting with the beginnings of recorded history and ending with World War I is quite a project, particularly for an author well into his seventies. Norwich, of course, pulls it off with all his usual chutzpah. The style is lively, we are guided efficiently through the political, military and dynastic complexities of the story without ever getting bogged down in the details, and there is always time for a little digression about an interesting personality. If you're unfamiliar with European history, this would make a very pleasant, unpedantic sort of introduction.Negative points: the first half of the book, inevitably, often reads like a condensed version of his earlier books on Byzantium, Sicily and Venice. If you've read those, you will probably end up skimming quite a lot here. Norwich, oddly for someone supposedly writing the history of a sea, isn't particularly interested in ships or naval affairs - any Patrick O'Brian fan will spot a few minor howlers of a technical nature, and will be disappointed to find Nelson's pursuit of the French fleet and the battle of the Nile treated in a couple of paragraphs, while his relationship with Lady Hamilton and the Neapolitan court gets about half a chapter. Don't read this book looking for profound academic analysis - but do expect to find the author taking advantage of the privileges of age and showing clearly where his sympathies lie i.e. with Byzantium, Venice, Norman Sicily and Moorish Spain and against Catholic Spain, the Hapsburgs and the Bourbons.The book comes with a lot of nice glossy photographs, most of them rather unoriginally selected. The maps are adequate, if a bit on the mean side, and the book includes a useful index, bibliography and some apparently randomly-selected family trees.
Review by Welshlily
16/06/2015
Succinct, entertaining, enjoyable - history for those who want to find out a bit and then choose where they want to go from there. Fascinating read - doesn't dwell too heavily on a particular period, but still manages to pull together a cohesive narrative and include the salient points.This is the type of history book that will tweak your interest, not bore you rigid and the informal writing style is a joy - I actually laughed out loud on a couple of occasions!For anyone who just wants an 'overview' - this is your book. For those who want in-depth it would be better to look elsewhere.