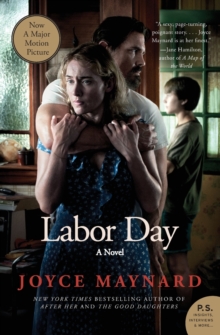 Labor Day: A Novel Film Tie-in
Paperback
Description
"Joyce Maynard is in top-notch form with Labor Day.
Simply a novel you cannot miss." -Jodi Picoult, New York Times bestselling author of My Sister's Keeper and Keeping Faith "Maynard has created an ensemble of characters that will sneak into your heart, and warm it while it breaks." -St.
Petersburg Times Joyce Maynard, acclaimed author of At Home in the World, is back with Labor Day.
The unforgettable story of a mother and son forever changed during a long summer weekend when a mysterious man comes into their lives.
Labor Day is "a sexy, page turning, poignant story" (Jane Hamilton, author of A Map of the World) that "affirms Maynard's reputation as a master storyteller and shows her to be a passionate humanist with a gifted ear and heart" (People)
Information
Format: Paperback
Pages: 288 pages
Publisher: HarperCollins Publishers Inc
Publication Date: 03/12/2013
Category: Fiction
ISBN: 9780062313638
Free Home Delivery
on all orders
Pick up orders
from local bookshops
Reviews
Showing 1 - 5 of 10 reviews.
Previous | Next
Review by voracious
16/06/2015
At age 13, Henry had become his agoraphobic mother's only companion. His father had left them years ago and started another family. As the man of the house, Henry seemed incapable of really giving his mother, Adele, what she needed. One day, when there was no avoiding their need to go to the store for new school pants, Henry is approached by Frank, a prisoner who had recently escaped and was on the loose. Frank is able to convince Henry and Adele to take him back to their home and they agree to help him. Over the course of a very hot Labor Day weekend, Adele and Henry begin to accept Frank as a member of their family, and he soon fills a hole in their lives they hadn't known had been so empty before he came. This was really an amazing book. I loved how Frank's role transforms over the course of the story until the reader becomes entirely sympathetic to his plight. I really enjoyed watching how he taught Henry important life lessons in such a short period of time. The pace of the novel was soothing and lovely. I was disappointed with the changes they made in the movie version, which painted Frank as a rougher, less empathic person. Although the simplification of his crime made the story more cohesive, the movie version was less soothing, less patient, and overall, less enjoyable than the novel.
Review by dpappas
16/06/2015
I probably would have liked this if I was a mother, or if I wasn't such a cynic when it comes to love. I decided to read this book when I saw a trailer for the movie version of it. While it was a relatively short book I found it to be dull at times and filled with characters that I didn't like. I wouldn't discourage anyone from reading this though, people will love this book.This is basically of coming of age story about Henry who experiences some life-changing events during Labor day weekend when he is 13. This is told from Henry's point-of-view and I didn't really understand why it was told in first person point-of-view until the end. Henry lives with his mother Adele who rarely wants to leave the house. Towards the end when it is revealed why she is the way she is I did feel a bit sorry for her. I just couldn't believe that she would let this escaped convict into her house. It just seemed like she wasn't doing what was best for her child.Labor Day was well written but it just didn't provide me with a story that I felt was compelling or captivating. I could never connect with or like the characters. There will be people out there who love this book but it just wasn't the book for me.
Review by ecataldi
16/06/2015
I soo longed for this to be a romance. After I saw this book featured on Buzzfeed's list of books getting turned into movies and saw the movie trailer, I knew I had to read it. The trailer with Kate Winslet and Josh Brolin looked beautiful and haunting and romantic. Which is what the book is, only... less on the romance.The story is told through the eyes of thirteen year old Henry Wheeler, and explores one life changing labor day weekend that he spent with his mother and an escaped convict. He comes into their life by accident, but it appears that the escaped convict, Frank, is anything but what the newspapers make him out to be. He is thoughtful, handy, and considerate, and quickly steals Henry's fragile mother's heart.This is more of a coming of age story then a romance, and it won't end the way you expect it to. But that's no reason for you not to read it. I thoroughly enjoyed the book and I can't wait to see the movie!
Review by melissarochelle
16/06/2015
Read from February 05 to 06, 2014I read this because of the movie trailer. I had little interest before the trailer came out, but they made it look riveting. Because of the trailer I expected a love story...you know, these two people coming together against all odds. There is some of that here, but more than anything this is a coming-of-story.The story of the fated Labor Day weekend is told to us as many coming-of-age stories are -- Henry, Adele's son, is older and wiser and he is recounting to us this life-changing weekend when he was 13. Henry and Adele have a close relationship, she's divorced from his father and Henry doesn't have many friends. Adele doesn't leave the house often. Then one day they go to the store and end up bringing an escaped convict home with them. Frank is a nice fellow and needs a place to lay low while they're looking for him. Adele is a woman that follows her gut more than her head so she agrees. So while there is a love story, we only get the part seen through the eyes of a 13-year-old boy. It isn't at all the same as a LOVE story, but I didn't hate it. Once I got over the initial surprise, I liked the story (I do love a good coming-of-age tale). The ebook formatting was annoying though -- if a paragraph is starting, it should be MORE indented than it was here. Plus there were no quotation marks which I find incredibly annoying...what is it with that choice? I guess it's supposed to say something to me about memory and style, but it's incredibly annoying.
Review by LiteraryFeline
16/06/2015
Labor Day by Joyce MaynardWilliam Morrow, 2009Fiction; 244 pgsYears ago, I read The Usual Rules by Joyce Maynard, which dealt with the 9/11 terror attack. It was a story about grief and learning to move on, and it was one that touched my heart. Joyce Maynard is one of those authors I always meant to return to, but never managed to. Until now. In part, that is due to the recent release of the movie. I wanted to see the movie, but, like so many others, had this burning desire to read the book first.Labor Day takes place in Holton Hills, New Hampshire. For the young narrator and his mother, life is mostly about getting through each day. Henry is thirteen years old, and in many ways typical. He has wet dreams and is fascinated by the opposite sex, but is also confused by his feelings and thoughts. He loves his mother fiercely, however, has spent most of his life trying to make her happy. She's always so sad and doesn't have much interest in life outside her own house. She rarely goes out, and does what she can to avoid it as often as possible. His mother, Adele, hadn't always been depressed. She once had been a dancer, full of dreams and of life. He loved listening to his mother's stories about her younger days. Henry has no friends and escapes often in books and television. His mother and father divorced years before, his father remarrying and starting a new family. The weekend before school is to start, Labor Day weekend, on a rare excursion to the store, Henry and his mother are approached by a man looking for a ride, preferably to their house where he can tend to his wounds and clean himself up. Instinctively trusting the man, they allow him to come home with them. Frank is a convicted murderer who has just escaped from custody. He is upfront about who he is and his intentions, promising he means Adele and Henry no harm.The novel takes place over the course of a week, the week in which Frank is with the family. Frank reawakens something long lost in both Henry and Adele, and none of their lives will be the same after.There is nothing rushed about this novel. At least in terms of the writing or story. There is great sadness in the novel, and my heart ached for Henry and his mother, Adele. Perhaps because of what I do for a living, I was less inclined to buy Frank's story at face value. I wanted to trust him and like him just as Adele and Henry did, but I was always wary of him. It is clear that Adele is deeply troubled. What kind of mother brings a convicted murderer into her home willingly? The way Maynard built her characters and her story, I almost believed it could happen. But only just almost.I loved Maynard's writing in The Usual Rules and I love it in Labor Day. I also liked the care she took in crafting her characters, how real they became as I read the novel, and how much reflection went into their thoughts and actions. Henry, as the narrator, of course, is at the heart of the novel and he definitely stole mine. I could feel is uncertainty and frustration throughout the novel, and also his joy at having someone take such an interest in him--and not having to care for his mother for a short while. What a relief that must have been.After reading the book, I was excited about seeing the movie. Kate Winslet was a wonderful choice to play Adele. She was very believable as a woman suffering from Depression and social anxiety. I enjoyed the movie for the most part. The pacing seemed in line with the book. It isn't a fast paced story, even given the subject matter. It's less a suspense novel/movie as it is a more character driven one. That isn't to say there is no suspense, however. There's always that concern that Frank's hiding place will be discovered.I liked that the movie built in more a sense of menace at the beginning of the film, making it more believable that Adele and Henry would take someone like Frank home. There's an implied threat that I did not get from Frank's character in the book. What I did not like about the movie, however, were the flashback scenes. Frank's story is mostly told in flashbacks, and for some reason, the movie makers decided to break those flashbacks into fragments, not necessarily revealing those fragments in order. It made it confusing, even to someone who had read the book before hand. I also felt not enough emphasis was given to Adele's past, the reason she was the way she was. It's mentioned in the movie, but it seemed more like an after thought.I am still glad I went to see the film, and even more so that I read the book.