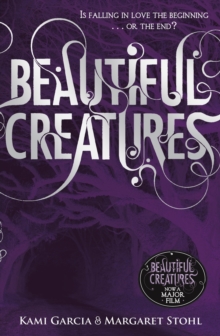 Beautiful Creatures
Paperback
Description
Is falling in love the beginning ...Or the end? In Ethan Wate's hometown there lies the darkest of secrets. There is a girl. Slowly, she pulled the hood from her head. Green eyes, black hair. Lena Duchannes. There is a curse. On the Sixteenth Moon, the Sixteenth Year, the Book will take what it's been promised. And no one can stop it. In the end, there is a grave. Lena and Ethan become bound together by a deep, powerful love.
But Lena is cursed and on her sixteenth birthday, her fate will be decided. Ethan never even saw it coming. * Don't miss the Warner Brothers and Alcon Entertainment blockbuster movie of Beautiful Creatures directed by Richard LaGravenese (P.S.
I Love You) and featuring an all star cast including Emma Thompson, Jeremy Irons, Viola Davies and hot young Hollywood talent Alice Englert, Alden Ehrenreich and Emmy Rossum.
Praise for Beautiful Creatures: 'This novel has been generating Twilight-level buzz.' - Teen Vogue About the authors: @kamigarciais a superstitious American southerner who can make biscuits by hand and pies from scratch!
She attended George Washington University and is a teacher and reading specialist. She lives in Los Angeles, California with her family. @mstohlhas written and designed many successful video games, which is why her two beagles are named Zelda and Kirby.
She has degrees from Yale and Stanford Universities in the US and has also studied in the prestigious creative writing department at UEA, Norwich. She lives in Santa Monica, California with her family. www.beautifulcreaturesthebook.com Also available in the Beautiful Creatures series: Beautiful Darkness, Beautiful Chaos and Beautiful Redemption. *Don't miss the brand new DANGEROUS CREATURES series, set in the world of Beautiful Creatures* Exclusive ebook novellas also available: Dream Dark Dangerous Dream.
Information
Format: Paperback
Pages: 577 pages
Publisher: Penguin Books Ltd
Publication Date: 04/01/2010
Category: Fantasy
ISBN: 9780141326085
Other Formats
Paperback from £7.09
EPUB from £3.99
Free Home Delivery
on all orders
Pick up orders
from local bookshops
Reviews
Showing 1 - 5 of 6 reviews.
Previous | Next
Review by seldombites
16/06/2015
This was an excellent book. I can't wait to read the rest of the series!
Review by cherrymischievous
16/06/2015
Cliffhanger Ending!I like the humor in the story lines. Chapter one, and the book had me giggling on my lunch break with everybody giving me looks in the staff room. I think that earned the story-telling quality a 4 out of 5. The story itself even if it is not terribly original is quite captivating. The authors have seemlessly blended modern day teen culture with paranormal fantasy that as a reader I could believe in. If I have to grade the "suspension of disbelief" for this story I will have to give it a 4.5 out of 5. The ending however is a cliffhanger. Although the ending did close the book nicely, it is also the beginning of the next book. Gave the impression that the whole book is just chapter one of a bigger book. That deserved a 2 out of 5. The cover art? It could do better. I have seen this book for sometime now in the blogosphere but ignored it for a few months just because I do not find the cover attractive to my fantasy reader's eyes. The art department who did this cover needs to be fired. In a marketing graph, this cover art would be a 1 out of 5. Overall, I would give this book an entertainment value of 3.5.
Review by tina1969
16/06/2015
There were no surprises in Gatlin County. We were pretty much the epicenter of the middle of nowhere.At least, that's what I thought.Turns out, I couldn't have been more wrong.There was a curse.There was a girl.And in the end, there was a grave.Lena Duchannes is unlike anyone the small Southern town of Gatlin has ever seen, and she's struggling to conceal her power, and a curse that has haunted her family for generations. But even within the overgrown gardens, murky swamps and crumbling graveyards of the forgotten South, a secret cannot stay hidden forever.Ethan Wate, who has been counting the months until he can escape from Gatlin, is haunted by dreams of a beautiful girl he has never met. When Lena moves into the town's oldest and most infamous plantation, Ethan is inexplicably drawn to her and determined to uncover the connection between them.In a town with no surprises, one secret could change everything.My Thoughts:I grabbed this book from my local library after seeing the trailer for the film. I did enjoy the book but found I would have enjoyed it more had I have been a teenager. This is the market I think that the book is aimed at but if you like books such as 'Twilight' then you wouldn't be disappointed.I loved the story and all the supernatural elements to the book but found it was very teenage sugary and do like to read a book that may be abit more meatier. However I am looking forward to the film and if it sticks to the book then it will be a treat to watch.
Review by Elysianfield
16/06/2015
Lena moves to Gatlin to live with his uncle and ends up in pretty much middle of nowhere where you're an outsider if you've lived there for 50 years. She meets Ethan who has been having dreams about this girl who's face he never sees but when Lena shows up, he realises it her. He finds out that Lena is a Caster (witch) and on her 16th birthday something bad is gonna happen.<br/><br/>I was fearing this would be too YA and it kinda was. I liked that it was dark but it went little too overboard. Especially the first half was just I'm soo alone here, no one understands me kind of crap. Only thing that was missing was suicidal thoughts. Of course the cheerleaders were straight from Mean Girls.<br/><br/>It was refreshing that it was from male's point of viw but unfortunately I just didn't feel any connection with him, nor with Lena. The people I liked was Lena's uncle Macon and Ethan's great-aunts.<br/><br/>After all this bashing I have to say the second half was better. It took too long to actually start but after that there was parts when I was curious what would happen. So I ended giving 3 instead 2.5.
Review by countingscripts
16/06/2015
Okay, so, trying to read this book is like a torture. I can't describe it. From the first line it was just... dull. Boring. And I wanted to die. I almost fell asleep while reading it, even though I wasn't tired. I got to page 100 until I finally gave up because there are so many good books to read and reading a bad book is just a waste of time. It's a good thing I didn't buy it because my money would just go to waste.<br/><br/>The main character, Ethan, really does sound like a middle-aged man. I couldn't even picture him as a 16-year-old teenager. I also didn't get a clear picture of him. All I knew was that his hair needs a haircut and that he's tall. I like to have a character in my head. It's easier for me to follow a storyline, to imagine everything that's going on because when I have unclear, blurry face, it's not as enjoyable. I don't know, maybe he's described more as the story goes on, but I'm sure as hell not going to continue it to find out.<br/><br/>Like I said, it was incredibly boring. Writing style didn't captivate me at all and nothing caught my attention enough to raise my eyebrows and continue reading the book with more enthusiasm what I always look for in a book. I wouldn't recommend it, but if you like long, dull books, then this is a book for you.