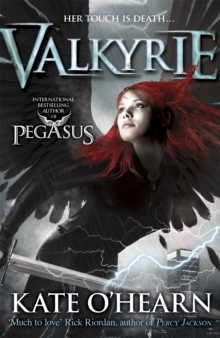 Valkyrie : Book 1
Paperback
Part of the Valkyrie series
Description
Freya is dreading turning fourteen - that marks the official end of her childhood and when she takes up full duties of a Valkyrie - a collector of souls from humanity's battlefields. But Freya is unlike any other Valkyrie. She doesn't want to follow in the footsteps of the legends before her.
As she observes from Asgard, she tries to understand what it is to be human: to make friends with girls her own age and laugh with boys, without the fear of causing their death with one touch.
Little does she know that her dreams will soon be realized: on her first battlefield mission, Freya reaps the soul of a soldier with unfinished business that will send her to the human world on a deadly quest. And there she must battle both ordinary and extraordinary enemies to create a new VALKYRIE legend.'Kate O'Hearn serves up a winning mix of modern adventure and classic fantasy.' Rick Riordan, author of Percy Jackson
Information
Format: Paperback
Pages: 352 pages
Publisher: Hachette Children's Group
Publication Date: 01/04/2013
Category: Adventure
ISBN: 9781444907551
Free Home Delivery
on all orders
Pick up orders
from local bookshops
Reviews
Showing 1 - 2 of 2 reviews.
Review by catfantastic
16/06/2015
Think Rick Riordan's <i>Percy Jackson</i> books, except with a girl main character instead of a boy, and using Norse Mythology instead of Greek. The writing is plain and simplistic. The plot is plain and simplistic. This may be good for elementary school aged fantasy/adventure readers. I do like the use of the valkyrie - a seldom used mythological creature (although how can I not think of the video game series <i>Valkyrie Profile</i>?) One thing that really irritated me was the crow's dialogue was printed in a different font. Seriously, that was beyond irritating.
Review by boppisces
16/06/2015
Freya is about to turn fourteen, the time when she will take up full duties as a Valkyrie goddess. She will be an angel of death and collector of souls from humanity's battlefields to add to the warriors that fill Valhalla. But Freya is filled with dread at the thought of the soldiers that feast in Valhalla by night and practice their battle skills by day for all eternity. From her home in Asgard she wonders what it is to be human, whilst knowing that to touch one would cause their death. During her first battlefield mission, Freya reaps the soul of a soldier with unfinished business and promises to help his troubled family. Always impulsive and often recklessness Freya sneaks away with the help of trickster Loki, breaking the rules and crossing Bifrost, the light bridge that connects Asgard to Midguard (Earth). Will helping the soldier's family fulfil her desire for to learn more about humanity?Would have liked to see more character development and the ending was a bit predictable but a good story with a new concept.