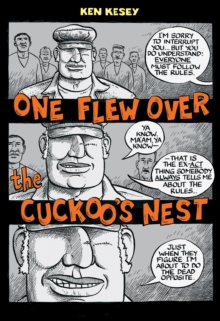 One Flew Over The Cuckoo's Nest
Paperback
Description
Boisterous, ribald, and ultimately shattering, Ken Kesey's 1962 novel has left an indelible mark on the literature of our time.
Now in a new deluxe edition with a foreword by Chuck Palahniuk and cover by Joe Sacco, here is the unforgettable story of a mental ward and its inhabitants, especially the tyrannical Big Nurse Ratched and Randle Patrick McMurphy, the brawling, fun-loving new inmate who resolves to oppose her.
We see the struggle through the eyes of Chief Bromden, the seemingly mute half-Indian patient who witnesses and understands McMurphy's heroic attempt to do battle with the powers that keep them all imprisoned.
Information
Format: Paperback
Pages: 320 pages, Illustrations
Publisher: Penguin Books Ltd
Publication Date: 01/12/2007
ISBN: 9780143105022
Other Formats
Paperback from £7.65
EPUB from £4.99
Free Home Delivery
on all orders
Pick up orders
from local bookshops
Reviews
Showing 1 - 2 of 2 reviews.
Review by PaperbackPirate
16/06/2015
This story is told from the "Chief Broom's" point of view. For many years he's been a patient in the mental institution which is the setting for the story. He never talks, making people assume he has no brain capacity and making him privy to the true horror that surrounds him. The ward he lives in is ruled over by the terrible, power-hungry, and unjust Nurse Ratched. She has everyone stepping in line when the main character, McMurphy, gets sentenced to reform in a mental institution. In a choice between the institution or hard labor he thought he was choosing the easy way out.Much of the story is a heroic, sometimes comical battle between McMurphy and Nurse Ratched. McMurphy loves a good game and believes he can beat Big Nurse at her own game. But what made me love McMurphy was when his struggle stops being a game and starts being about the people around him that he comes to care for.The hardest part for me was not picturing McMurphy as Jack Nicholson from the movie. It shouldn't be a big deal to just go ahead and imagine him as Jack Nicholson, but he is described as a linebacker-sized redhead. His size and hair color come up constantly in the story and it was a little jarring for me. That detail aside, I loved the whole story and would highly recommend it.
Review by gbill
16/06/2015
Who can forget Randall P. McMurphy and Nurse Ratched? "One Flew Over the Cuckoo's Nest" tells of the plight of mental patients who are, as McMurphy would put it, "not any crazier than the average asshole on the street", subjected to a system that strips them of dignity and whatever remaining power they possess over their own lives; a system perhaps needed for those who have completely lost touch, but which is broadly applied, unnecessarily, to all. This is a world where electroconvulsive shock therapy may be used as intended, therapy (albeit crude and questionable even in that way), or as a cruel punishment, or at the whim of a self-righteous nurse who revels in exerting absolute control over all her emotions and the lives of those around her.Who does Kesey subtly compare these powerless and humiliated patients to? Native Americans, who were arguably subjected to the largest land dispossession and genocide in history. Kesey has the story narrated through the eyes of the son of a Chief who had held out against the government as long as he could, a son who is in the mental hospital as a "Chronic", one whom all believe to be deaf and dumb, and therefore essentially treated as invisible.Native Americans have had their land stolen; the patients, their lives stolen. Both groups are looked down as inferior, and this is used as the justification for their victimization by the "combine", the machine those in power use to control all who are beneath them. The rebel figure for the Native Americans is old Chief Bromden, who eventually gives in, broken down not only by the government and its subtle ways, but also by his tribe and wife who do not understand and who do not stand tall. The rebel figure for the patients, of course, is McMurphy, who fights the good fight but as the Clash sang, it's a case of "I fought the law and the law won". The book was of particular interest to me as Kesey worked in the Menlo Park Veteran's Hospital not far from where I live, and because Kesey connected to the beat poets when he participated in the government-sponsored psychoactive drug testing in 1959. This of course ushered in the drug culture of the 60's, and as Kesey said in 1987, "We were asked by the government, 'Hey, go into that little box over there. There's something in that little box that we don't have the hair to go into.' So they hired a bunch of college students to go in there … then they said, 'Don't let them back in that box.'"This is one of the rare cases where both the book and the 1975 movie are GREAT, and while reading the book it was hard not to hear Nicholson voicing McMurphy's lines, many of which are hilarious, or remember the other actors from that outstanding cast. Just one quote, on neuroses:"But what you want are the reasons for the reasons, and I'm not able to give you those. Not for the others, anyway. For myself? Guilt. Shame. Fear. Self-belittlement. I discovered at an early age that I was – shall we be kind and say different? It's a better, more general word than the other one. I indulged in certain practices that our society regards as shameful. And I got sick. It wasn't the practices, I don't think, it was the feeling that the great, deadly, pointing, forefinger of society was pointing at me – and the great voice of millions, chanting, 'Shame. Shame. Shame.' It's society's way of dealing with someone different."