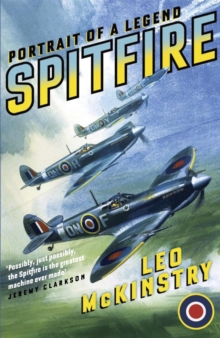 Description
In June 1940, the German Army had brought the rest of Europe to its knees. 'Hitler knows that he will have to break us in this island or lose the war.
If we can stand up to him, all Europe may be free and the life of the world will move forward into broad, sunlit uplands,' said Churchill.
The future of Europe depended on Britain. A self-confident Herman Goring thought that it would be only a matter of weeks before his planes had forced Britain to surrender.
The courage, resourcefulness and brilliant organisation of the RAF were to prove him wrong.
By late September 1940, the RAF had proved invincible, thanks to the Vickers Supermarine Spitfire.
It exceeded anything that any other air force possessed.
RJ Mitchell, a shy and almost painfully modest engineer, was the genius behind the Spitfire.
On the 5th March 1936, following its successful maiden flight, a legend was born.
Prize-winning historian Leo McKinstry's vivid history of the Spitfire brings together a rich cast of characters and first hand testimonies.
It is a tale full of drama and heroism, of glory and tragedy, with the main protagonist the remarkable plane that played a crucial role in saving Britain.
Information
Format: Paperback
Pages: 464 pages
Publisher: Hodder & Stoughton General Division
Publication Date: 23/02/2008
Category: Aircraft: general interest
ISBN: 9780719568756
Free Home Delivery
on all orders
Pick up orders
from local bookshops
Reviews
Showing 1 - 3 of 3 reviews.
Review by sloopjonb
16/06/2015
Excellent general history of the world's most iconic aeroplane. McKinstry keeps the geeky technical details to a minimum, but gives marvellous pen-portraits of the people involved in the design, production and operation of the Spit. Every stage of the story is told from the human angle, and is fascinating and gripping from start to finish. He is not blind to the faults of the aircraft, and deals fairly with the various controversies encountered. (I had not realised, for example, just what a basket case Supermarine was, and that the continued failure to produce Spits on schedule may have been a major factor in Chamberlain's Munich policy).
Review by PIER50
16/06/2015
Excellent book about the history of the Spitfire. Reading this book it is amazing that this iconic aircraft was ever built. The descriptions of some of the work rounds and lash ups to solve technical and operational issues are eye openers - i.e a bomb was added to some of the Spitfires and this was dropped by the pilot pulling on a piece of string which, in theory pulled a retaining pin out. In practice, this did not always work, which meant that the pilot has to throw the plane about violently in order to try to shake the bomb loose!
Review by aadyer
16/06/2015
A superb account from RJ Mitchells first designs, the Schneider trophy, & the outdated nature of pre war RAF planes, tthrough the second world war, in particular the Battle of Britain, to the Korean War & further. Very informative & highly readable. As good as McKinstry's other work on the Lancaster. Has a very Max Hastings like approach to experience of combat which I found riveting reading. If there was one, very mild criticism, it is that it concentrates on the western front too much. Highly recommended