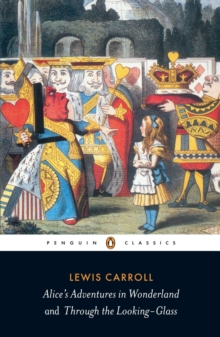 Alice's Adventures In Wonderland & Through The Looking Glassss
Paperback
Description
Collecting Alice's complete adventures, a source of delight to children and adults alike for generations, the Penguin Classics edition of Lewis Carroll's Alice's Adventures in Wonderland and Through the Looking-Glass is edited with an introduction and notes by Hugh Haughton. Conjured up one 'golden afternoon' in 1862 to entertain Alice Liddell, the daughter of the dean of Carroll's college, the dream worlds of nonsensical Wonderland and back-to-front Looking-Glass kingdom depict order turned upside-down.
Following the white rabbit into his warren, Alice falls into a world where croquet is played with hedgehogs and flamingos, a baby turns into a pig, time runs amok at a the Mad Hatter's tea-party, a chaotic game of chess makes Alice a Queen and the Mock Turtle and Gryphon dance the Lobster Quadrille.
But amongst the anarchic humour and sparkling wordplay, unforgettable characters, puzzles and riddles, are poignant moments of nostalgia for a lost childhood. Original and experimental, adapted into countless film and television versions as Alice in Wonderland, the Alice books give readers a window on both child and adult worlds. This is the most comprehensively annotated edition available and includes the manuscript version of Alice's Adventures Under Ground and Carroll's 1887 essay '"Alice" on the stage'. Lewis Carroll (1832-1898) was the pen-name of the Reverend Charles Lutwidge Dodgson.
Educated at Rugby School and Christ Church, Oxford, Carroll was appointed lecturer in mathematics in 1855, where he spent the rest of his life.
In 1861 he took deacon's orders, but shyness and a constitutional stammer prevented him from seeking the priesthood. If you enjoyed Alice's Adventures in Wonderland you might like Mikhail Bulgakov's The Master and Margarita, also available in Penguin Classics. 'A work of glorious intelligence and literary devices ...nonsense becomes a form of higher sense' Malcolm Bradbury
Information
Format: Paperback
Pages: 448 pages
Publisher: Penguin Books Ltd
Publication Date: 27/03/2003
Category: Classic fiction (pre c 1945)
ISBN: 9780141439761
Free Home Delivery
on all orders
Pick up orders
from local bookshops
Reviews
Showing 1 - 5 of 12 reviews.
Previous | Next
Review by DRFP
16/06/2015
Not much really needs to be said about Alice in Wonderland. It's truly a great story and worthy of its fame. However I found Through The Looking-Glass a bit TOO odd for my liking (or at least it lacked the spark of Wonderland).If it were just AiW alone in this book I might give it an even higher rating; but tagged with TtLG I'd have to say 4 Stars is about right.
Review by Blenny
16/06/2015
I enjoyed Alice In Wonderland. I found it to be inspiring and funny, with many radical ideas and colourful characters. John Tenniel's illustrations inject the story with even more life and pizzazz. However, Through The Looking Glass was overly-surreal to the point of being vague. I felt that Carroll had lost his way on his own journey in the story and was merely suggesting ideas, rather than writing a good yarn.
Review by LeeMoppet
16/06/2015
A true classic, Alice's Adventures in Wonderland and Through the Looking Glass can be read in many ways and is always entertaining.
Review by soylentgreen23
16/06/2015
Well, what can be said that hasn't been said before? I approached Carroll's classic by way of Kafka and a lot of other modernist fiction, and I can see the connections hinted at by the introduction. At times, Carroll's tales are mesmerising, and I felt dizzy towards the end - perhaps more a product of reading so quickly. The greatest victory here is the balance of childlike wonder and adult sadness- nothing lasts, nothing makes sense, everything is transitory.Note: This book kind of appears twice on the list of 1001 books to read before you die, but I've entered it on librarything as the combined works.
Review by BoundTogetherForGood
16/06/2015
I didn't love this, didn't hate this. I expected it to be really weird. It was strange enough but not as much as I expected it to be. Pretty much just seemed as if it were an odd sort of tale to hold the attention of some young minds, as it was I suppose. (I only read Alice's Adventures in Wonderland and the introduction to the tale and about the author.)