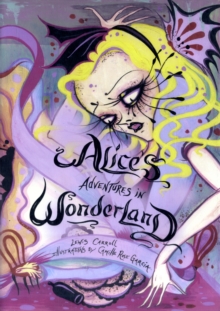 Alice's Adventures in Wonderland
Hardback
Description
One of the most beloved children's classics of all time, Lewis Carroll's "Alice's Adventures in Wonderland" is boldly reinterpreted by Camille Rose Garcia, whose dark yet whimsical style has won her resounding praise and an international cult following.
The story of a young girls' strange adventures in a fantasy world comes to life in this stunning, affordably priced edition that will delight the many millions of confirmed Alice fans everywhere and captivate a new generation.
The publication of "Alice's Adventures in Wonderland" will coincide with the release of Tim Burton's 2010 film starring Johnny Depp, Alan Rickman, Helena Bonham-Carter, and Anne Hathaway among others - and the Hollywood buzz has predicted it will be one of the year's biggest hits.
The recent success of Collins Design's publication of "The Curious Case of Benjamin Button" by F.
Scott Fitzgerald - published in sync with the release of David Fincher's Academy Award-winning film - indicates there is an enormous market for creative interpretations of literary classics. This new, imaginatively illustrated edition holds even greater promise, with an enormous fan base, long literary history, and the timing of its publication with the film.
Alice is going Goth - and her adventures are more wondrous than ever before.
Information
Format: Hardback
Pages: 160 pages, 160 Colour
Publisher: HarperCollins Publishers Inc
Publication Date: 15/02/2010
Category: Classic fiction (pre c 1945)
ISBN: 9780061886577
Other Formats
Hardback from £7.39
Board book from £5.59
Paperback from £1.99
Leather / fine binding from £21.95
Free Home Delivery
on all orders
Pick up orders
from local bookshops
Reviews
Showing 1 - 1 of 1 reviews.
Review by tapestry100
16/06/2015
OK, I'm not going to be doing a review of Alice's Adventures in Wonderland, as I did a rather lengthy one last year, but I do want to talk about the illustrations in this new edition. I'm a sucker for picking up multiple copies of a book that I like if there are new illustrations or something in the book that catches my interest (for instance, this is my third edition of Alice that I own, and I have 6 editions of A Christmas Carol - just to change it up a little, I try to read a different edition each time I re-read these).Of course, with the new Tim Burton film, Alice in Wonderland coming out in just a few short weeks, it seems that Alice is everywhere I look these days, and imagine my surprise when a friend pointed this edition out to me yesterday at B&N. I am a real stickler for the original Sir John Tenniel illustrations for Alice, but I have to say that Camille Rose Garcia's illustrations are just so unique and original that I couldn't pass the book up. These are very much a modern day Alice - Garcia kept the feel of being in a dream intact, but brought them to vibrant, technicolored life. To be honest, these illustrations look like they could have been pulled right out of Tim Burton's head - they have that same creepy yet beautiful look and feel that I find so mesmerizing about Burton's films. Garcia's illustrations are a little off-kilter and her characters look a little crazed and everytings seems just a little out of proportion (even for poor Alice, who always has trouble keeping to just the right size) and yet it all comes together to create a wholly refreshing new look for the cast of the story. We even get a few glimpses of scenes that weren't illustrated in the original, such as the actual Lobster Quadrille, not just the Mock Turtle and Gryphon's demonstration. I'm hopeful we'll get to see her take on Through the Looking Glass in the near future.