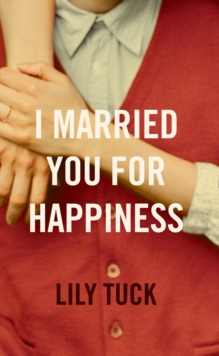 I Married You For Happiness
Hardback
Description
A riveting and deeply moving portrait of love and marriage. "His hand is growing cold, still she holds it." The story unfolds over a single night, as Nina sits at the bedside of her husband Philip, whose sudden and unexpected death is the reason for her lonely vigil.
Too shocked yet to grieve, she recalls the defining moments of their long marriage, beginning with their first meeting in Paris.
As the reader is drawn through select memories - real and imagined - of events that occurred in places as distant and disparate as France, Wisconsin, Hong Kong, Mexico, and California, Tuck reveals the intimacies, dark secrets and overwhelming joys that shaped the lives of Nina and Philip.
Moving, powerful, and utterly engaging, 'I Married You for Happiness' is a riveting portrait of a forty-three-year-old marriage, an elegant elegy to a husband and a meditation on how chance can affect both a life and love.
Information
Format: Hardback
Pages: 208 pages
Publisher: HarperCollins Publishers
Publication Date: 01/01/2012
ISBN: 9780007449149
Other Formats
Paperback from £6.15
EPUB from £2.99
Free Home Delivery
on all orders
Pick up orders
from local bookshops
Reviews
Showing 1 - 3 of 3 reviews.
Review by nicx27
16/06/2015
Nina is sitting in vigil by the bedside of her dead husband, Philip. He came in from work, said he was going for a lie down, and never got up again. Nina spends the night thinking back over their life together.This is a short book, less than 200 pages, and although there are no chapters, the book consists of lots of short memories really. This makes it a very quick and easy read. I thought it was a good idea for a story, and I did think it was a decent read, but it was completely lacking in emotion and, given the subject matter, I would have hoped to come away from the book having felt more empathy with the main character.I think this is worth a read, and it was a good look back over a marriage, but ultimately I came away feeling a little bit dissatisfied.
Review by teresa1953
16/06/2015
Nina's husband Philip goes upstairs for a lie down before dinner on his return from work. When he doesn't respond to her "dinner's ready" calls she goes to check on him. Philip is dead...there one minute and gone the next.As she sits and holds his hand, she recalls their marriage from the first time they met. Like any marriage there are good and bad times, laughter and tears. Nina recalls a time when she was unfaithful to Philip and it is clear that she believed he cheated on her also. We learn of Philip's career as a mathematician and Nina's life as an artist. Their journeys to many countries are illuminating and enjoyable.This small novel is very cleverly written, skipping from past recollections and the nightime vigil as Philip grows colder. The author has taken a large amount of references from several scientific and mathematical sources and I struggled with her "memories" of Philip's lectures which are recalled verbatim. She wasn't there, so how is she able to transcribe them? It just didn't seem right to me. I found the ending rushed and rather strange....and the title....I hated the title. It doesn't reflect the story content at all.Overall, I do recommend this book for the the gifted writing alone, but a few tweeks here and there would have brought this novel in to the realms of greatness.
Review by arkgirl1
16/06/2015
A wife holds her husband's hand, he has died suddenly from an heart attack and she needs time to say goodbye. Nina and Philip [or Nin and Phi i as it appropriately says on her worn wedding ring] have been married for 43 years and this book consists of a flit through memories of Nina's life with Philip as she keeps her overnight vigil by his bed. The memories are random and you don't always know the exact chronology, she is a cultured lady and they have spent much of their life in Europe so there are several quotes in French [and a few in Italian] that are not translated [this might frustrate non-linguists], but both the time and changing language fit with the haphazard connecting of remembrances over a life together.Philip is a mathematician and incredibly passionate about the subject; there is much sharing of concepts and ideas that surprisingly seem to have stuck in Nina's head despite the fact that she sometimes seems to be glazing over listening to them. If you are someone who struggles with maths you can still enjoy this book and just skim through these bits as there is much else to enjoy, it is almost poetic in style and there is something very visual with the vignettes described from their first meeting in a french cafe onwards.Nina's art is not explored and shared in as much detail but there are glimpses of her work but if she obsesses about anything it is about the possibility of Philip's 'betraying' her - she seems to have a very jealous streak and this provides one of the most amusing scenes at Philip's work!Their relationship with their only daughter, Louise, is also woven into her reminiscences and the fact that she doesn't yet know of her father's death and thus is 'still alive' in her world links in with some of the concepts explored in Philip's work.It isn't a long read but much is packed in and if you want a beautifully written essay on the 'ups and downs' of a working marriage this is well worth a look but some may find the ending a little abrupt and too ambigious.