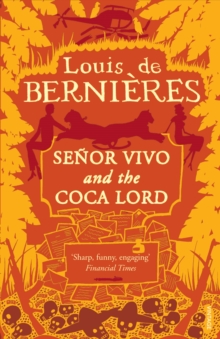 Senor Vivo & The Coca Lord
Paperback
Description
Dionisio Vivo, a South American lecturer in philosophy, is puzzled by the hideously mutilated corpses that keep turning up outside his front door.
To his friend, Ramon, one of the few honest policemen in town, the message is all too clear: Dionisio's letters to the press, exposing the drug barons, must stop; and although Dionisio manages to escape the hit-men sent to get him, he soon realises that others are more vulnerable, and his love for them leads him to take a colossal revenge.
Information
Format: Paperback
Pages: 304 pages
Publisher: Vintage Publishing
Publication Date: 06/08/1992
ISBN: 9780749399627
Free Home Delivery
on all orders
Pick up orders
from local bookshops
Reviews
Showing 1 - 5 of 5 reviews.
Review by wendyrey
16/06/2015
Louis de Bernieres first novel set in an unidentified country in Latin America . Strongly influenced by Magical Realism very readable and lyrical in parts and extraordinarily and graphically violent in the last few chapters. The contrast between the gently humourous main body of the book and the plainly and coldly told dissection (for lack of a better word) of the main female character while she is still alive but mercifully unconscious towards the end is particularly telling.
Review by Avril
16/06/2015
When you've read this you know something of the mess that is South America, overrun by alien cultures but struggling to find itself through the Latinization.
Review by thorold
16/06/2015
Entertaining pastiche of South American magic realism that sits a little uncomfortably with its more serious message about the all-pervading nastiness of organised crime. The result is a bit like a cross between late Graham Greene and early Tom Sharpe: sometimes brilliant, sometimes very funny indeed, but often just too much of a good thing. I do enjoy the way De Bernières brings Latin-American words and expressions into his very British English, though. Worth reading for the language, but a bit gruesome.
Review by edwinbcn
16/06/2015
After reading The war of Don Emmanuel's nether parts I vowed not to read any of the other volumes of Louis de Bernières's Latin American Trilogy, but as I could pick up Señor Vivo and the Coca Lord for free at an expat cafe, I decided to give it a try.However, this story is possibly even worse than the first volume in the trilogy. Besides, the novel features some gross violence. Violence is never funny, and any author who tries to prove the contrary is clearly out of bounds. These novels are infantile, and very uninspiring.
Review by libgirl69
16/06/2015
So much better than Captain Correlli. Forget that book and read this series. Quirky, intelligent, mysterious; well rewritten. Nearest series I can think of is Dr Siri by Colin Cotterill.