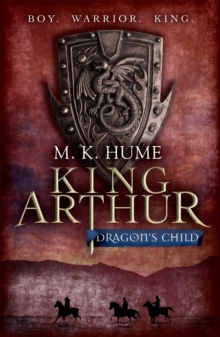 King Arthur: Dragon's Child
Paperback
Description
The epic tale of the man destined to become Arthur, High King of the Britons The Dark Ages: a time of chaos and bloodshed. The Roman legions have long deserted the Isles and the despotic Uther Pendragon, High King of Celtic Britain, is nearing death, his kingdom torn apart by the jostling for his throne.
Of unknown parentage, Artorex in growing up in the household of his foster father Lord Ector. One day, three strangers arrive and arrange for Artorex to be taught the martial skills of the warrior; blade and shield, horse and fire, pain and bravery.
When they return, years later, Artorex is not only trained in the arts of battle, he is also a married man.
The country is in desperate straits for the great cities of the east are falling to the menace of the Saxon hordes.
Artorex becomes a war chieftain, and wins many battles that earns him the trust of his Celtic warriors and proves that Artorex alone can unite the tribes.
But, if he is to fulfil his destiny and become the High King of the Britons, Artorex must find Uther's crown and sword.
The future of Britain is at stake.
Information
Format: Paperback
Pages: 528 pages, Maps
Publisher: Headline Publishing Group
Publication Date: 20/08/2009
Category: Historical fiction
ISBN: 9780755348671
Free Home Delivery
on all orders
Pick up orders
from local bookshops
Reviews
Showing 1 - 2 of 2 reviews.
Review by slavenrm
16/06/2015
As usual, this book arrived at my doorstep free of charge. Unusually, I can't determine with any specificity exactly why it did so. If I had to guess I'd say it was the Atria program via Simon and Schuster. Despite that kind and mysterious consideration, my candid and baldfaced opinions appear below.In a nutshell, this is the retelling of the King Author myth spanning from Author's birth through his rise to the kingship. As Authurian legends go, this one tends towards the strictly realistic and pulls no punches about the state of the world at the time.On the positive side, Hume's writing is beyond reproach. I found myself constantly entertained at her use of appropriate and timely language which pulled me to my dictionary repeatedly and with unbridled glee. This is a book that educates while it entertains. Anything she chooses to write in the future will have my utmost attention. Here is a tale that is woven with intricacy and detail that is unrivaled.On the negative side, and this is a negative side that is rather implied by my perceptions of the tastes of other readers, this is not a book that speeds along with any great rapidity. The book goes on for almost 500 pages and while I was entranced by the intricacies, I can imagine other readers finding themselves in the arms of a rather intransigent ennui. The book does move slowly but the arc that it traces is an epic one.In summary, this is a book to approach in an unhurried and open-minded manner. It has much to teach you, not the least of which is vocabulary. It's not a book for a single solitary rainy afternoon but instead one to be taken a few chapters at a time over the course of a week. It is a book to be pondered over and digested slowly. As epic tales go, this is a fresh and delightful retelling but don't expect to swallow it in one go. Take the time to savor and learn from what it has to tell you. I look forward to the subsequent volumes. This is a book for the thinkers among us.
Review by TheLostEntwife
16/06/2015
I've only recently become familiar with some of the famous works surrounding King Arthur. Names like T.H. White, Tennyson's Idylls, Geoffrey of Monmouth, and more were introduced to me during an Arthurian Seminar I took my last semester of school. As I already have a huge love of all things legend and folktale, it is only natural that King Arthur stories would grab my attention and create a sort of monster.Read the rest of this review at The Lost Entwife on Oct. 14, 2013.