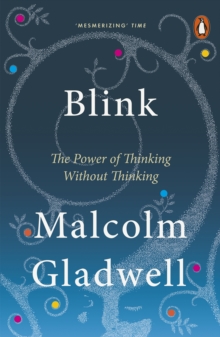 Blink : The Power of Thinking Without Thinking
Paperback
Description
An art expert sees a ten-million-dollar sculpture and instantly spots it's a fake.
A marriage analyst knows within minutes whether a couple will stay together.
A fire-fighter suddenly senses he has to get out of a blazing building.
A speed dater clicks with the right person...This international bestselling book is all about those moments when we 'know' something without knowing why.
Here Malcolm Gladwell explores the phenomenon of 'blink', showing how a snap judgement can be far more effective than a cautious decision.
By trusting your instincts, he reveals, you'll never think about thinking in the same way again. 'Trust my snap judgement, buy this book: you'll be delighted' The New York Times 'Compelling, fiendishly clever' Evening Standard 'Brilliant ...the implications for business, let alone love, are vast' Observer 'Superb ...this wonderful book should be compulsory reading' New Statesman 'Blink might just change your life' Esquire 'Should you buy this book?
You already know the answer to that' Independent on Sunday
Information
Format: Paperback
Pages: 304 pages
Publisher: Penguin Books Ltd
Publication Date: 23/02/2006
Category: Popular psychology
ISBN: 9780141014593
Other Formats
EPUB from £5.49
CD-Audio from £19.85
Free Home Delivery
on all orders
Pick up orders
from local bookshops
Reviews
Showing 1 - 5 of 10 reviews.
Previous | Next
Review by soylentgreen23
16/06/2015
Having read some reviews of Gladwell's work on Amazon, I have to say that I'm surprised: surprised that so many people expected so much from what is really only a work of popular science.Certainly, Gladwell does not delve deep enough into what is a fascinating subject, of deep mental cognition, but then that is not this book's role. "Blink" is an introduction, a tease to get people interested in a field that far too few take seriously, and as such it works tremendously well. It is a page-turner in the truest sense of the term. It is also well-structured, taking a point at a time and a chapter at a time, whilst simultaneously reinforcing points along the way, so that one learns what one has read. Some have taken this as a mass-market sell-out, but it is nothing of the sort.The book itself contains some real gems, stories told elsewhere but here presented by an authoritative story-teller. The tale of the Greek statue crops up several times, but there is also an intriguing piece about how our minds can be programmed to respond to information without our being aware of it; Gladwell discusses "thin-slicing," or how our experience helps pattern-match and allows our subconscious mind to process information much faster than we could using our intellects alone; and there is an informative, if controversial, piece about the killing of Amadou Diallo."Blink" is popular science, yes, and so it is limited; but it is full of knowledge and learning and to such an extent - the comprehensive bibliography points towards far more about this subject than should ever be expected from the kind of book one might pick up in an airport.
Review by TimFootman
16/06/2015
It's best to trust your first instincts. Except when it isn't.Hmmm....
Review by nozboy
16/06/2015
As always with Gladwell, beautifully engaging book full of thought provoking tales.
Review by literarytiger
16/06/2015
Gladwell explores an interesting topic - namely thinking 'without thinking' as he describes it. He starts off by showing how there are times we just 'know' things - we 'know' something is fake, we 'know' something is about to happen or we 'know' whether people are going to get along, without really knowing why we know. I thought that the book was going to be an exploration of human instinct, however, what I gleaned was that in order to 'know' (as opposed to just have a lucky guess), we need to have a huge amount of experience beforehand. The amazing insights that are described on the back cover are all achieved by people who have spent a long time consciously (or unconsciously) studying the field so that they no longer need to think - knowing becomes a part of their instinctive reaction.Perhaps I was a little bit disappointed by this. I thought that his conclusion was a little bit self-evident, however it was discussed well, and he used some fascinating examples (his description of autism was really interesting). Still, if you are willing to study hard, you too could master the art of thinking without thinking...so back to the books for me.
Review by stefano
16/06/2015
quite entertaining but not as persuasive and clear minded as the Tipping Point.