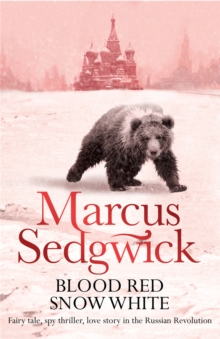 Blood Red, Snow White
Paperback
Description
Set at the time of the Russian Revolution, the end of a centuries old dynasty, the rise of the Bolsheviks sent shockwaves around the world.
This is the story of one man who was there. It's real history - about the riches and excesses, the glory of the Russian nobility, Nicholas and Alexandra, their haemophiliac son, Alexei, notorious Rasputin, Lenin and Trotsky who ruled from palaces where the Czars had once danced till dawn.
The man was real too, his name was Arthur Ransome. He was a writer, accused of being a spy, perhaps even a double agent, and he left his wife and beloved daughter and fell in love with Russia and a Russian woman, Evgenia. Fictionalising history and blending it with real life, part i is told as a fairy tale.
Wise and foolish kings, princesses, enchantresses (characters more suited to fairy tale than reality), wishes and magic, Russia with its vast cold plains and mighty cities, its riches and poverty, all play a part in the downfall of the Czars and rise of the new order.
Part ii is about betrayal - Ransome the spy, bleak and threatening. Part iii is a love story, a fairy tale, ending - of Ransome's love for his daughter, Tabitha, and for Evgenia.
Information
Format: Paperback
Pages: 320 pages, colour map
Publisher: Hachette Children's Group
Publication Date: 29/05/2008
Category: General
ISBN: 9781842556375
Free Home Delivery
on all orders
Pick up orders
from local bookshops
Reviews
Showing 1 - 2 of 2 reviews.
Review by E.R.G.
16/06/2015
Well writen and a good story as well as lots of stuff about the first world war. It was a bit confusing though and I never totally understood all of what was going on.
Review by generalkala
16/06/2015
This is not a book about the Russian Revolution. This is a book about Arthur Ransome.Ransome was the author of Swallows and Amazons (amongst other adventure stories) and a journalist during the Russian Revolution. The novel revolves around his life, his aquaintances and his problems, few of which relate to the Revolution. This fascinating historical event happens almost in the background, an afterthought. Although his moral dilemmas over whether to become a spy form a large part, there is little else regarding the Revolution. The execution of the Tsar and his family form a mere three lines, while the difficulties in travelling back and forth between England and Russia drag on forever.It is also clearly a children's book. The language is very, very simple and the few factual parts are toned down for easier understanding. There are no likeable characters.All in all, the novel provides a very basic understanding of the Russian Revolution, if you're prepared to slog through the meanderings of Arthur Ransome's troubles with his wife.