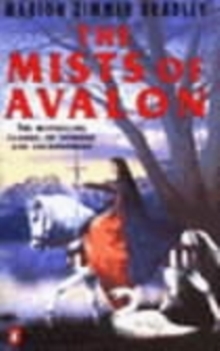 The Mists Of Avalon,
Paperback
Description
Here is the tragic tale of the rise and fall of Camelot - but seen through the eyes of Camelot's women: The devout Gwenhwyfar, Arthur's Queen; Vivane, High priestess of Avalon and the Lady of the Lake; above all, Morgaine, possessor of the sight, the wise, the wise-woman fated to bring ruin on them all...
Information
Format: Paperback
Pages: 1024 pages
Publisher: Penguin Books Ltd
Publication Date: 07/01/1993
Category: Fantasy
ISBN: 9780140177190
Free Home Delivery
on all orders
Pick up orders
from local bookshops
Reviews
Showing 1 - 4 of 4 reviews.
Review by Eilantha_Le_Fay
16/06/2015
This was, is, and always will be my favourite book. Being inside it is like returning home. It stirs amazing things deep inside me. It makes me happy, it makes full. It makes me not want to return to the real life.
Review by ChrisAdonn
16/06/2015
I loved this book both times I read it. When I first read it. I loved that Morgan Le Faye is not the villain as is the case with so many of the Arthurian novels. The second time round, I truly began to grasp Bradley's clever use of history and various legends. I book I gladly recommend to any avid reader.
Review by Danielle.Montgomery
16/06/2015
This book was a bit weird for me. I know the general legend of Arthur and I know that it doesn't end well. So going into a book, knowing that the ending isn't happily ever after made the book hard to read. I would read 20-30 pages (then I'd be busy at work again), and I'd set it down. And every time I picked it up, I would be slightly reluctant to start reading again because, again, I know the ending. But every time I start reading it, I get completely immersed in the story to a point where I wouldn't want to put it down. The book was a big tug-o-war for me but I can truly say that this book is one of a kind. Bradley shows such REAL feelings in her characters. You find greed, lust, ambition, love...This truly is such a well rounded story that I think it would appeal to any type of reader. Bradley creates a beautiful layout of the land and of Avalon, so much so that you can see it in your mind and believe that you are there. This was definitely a story of EPIC proportions. I hope they make an epic movie out of this like Lord of the Rings ;)
Review by shanaqui
16/06/2015
As a scholar, I find The Mists of Avalon very interesting. What it does with the story of Arthur is fascinating: Arthur's story is always used to the author's own ends, and Marion Zimmer Bradley is very conscious of that. Her emphasis on feminine power is well done -- I loved the opening part, with its insight into Igraine's thoughts and feelings, her fears, her hopes. This version of the story is driven largely by the women, and it isn't the vision of steel and lances and damsels in distress that the more traditional Arthurian court promotes.<br/><br/>I enjoyed what she did with the ideas of the Lady of the Lake and the Merlin: even in traditional stories, there are a lot of different aspects to them, and the idea of them as positions rather than single people works reasonably well. The whole story line with Kevin is interesting.<br/><br/>But.<br/><br/>I didn't read this book in its entirety. I skipped and skimmed. I just couldn't settle down and enjoy it, because it felt like nothing happened, and that it was wholly invested in a kind of spirituality that doesn't say much to me (my religion doesn't have so much as a creed, let alone a set of rituals or any set scripture). It seems to take forever to get anywhere.<br/><br/>I am going to have to do more than skim it, eventually, if I want to write an essay on it, during my Master's degree. For now, feel free to take my review and rating with a pinch of salt.<br/><br/>(Initially, at least, rating it two stars, "it was okay". I enjoyed the ideas, the way she chose to spin the retelling, but not the execution. The ideas may bump it up a star or two if I do read it later.)
Also by Marion Zimmer Bradley | View all