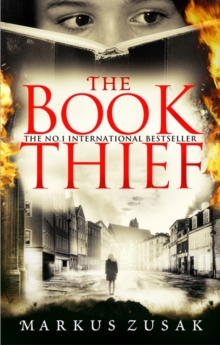 Description
It is 1939. Nazi Germany. The country is holding its breath. Death has never been busier, and will become busier still.
By her brother's graveside, Liesel Meminger's life is changed when she picks up a single object, partially hidden in the snow.
It is The Gravedigger's Handbook, left there by accident, and it is her first act of book thievery.
So begins a love affair with books and words, as Liesel, with the help of her foster father, learns to read.
Soon she is stealing books from Nazi book-burnings, the mayor's wife's library, wherever there are books to be found.
But these are dangerous times. When Liesel's foster family hides a Jew in their basement, Liesel's world is both opened up, and closed down.
The Book Thief is a story about the power of words and the ability of books to feed the soul.
In superbly crafted writing that burns with intensity, award-winning author Markus Zusak has given us one of the most enduring stories of our time.
Information
Format: Paperback
Pages: 592 pages, Illustrations
Publisher: Random House Children's Publishers UK
Publication Date: 03/01/2008
Category: Historical
ISBN: 9781862302914
Free Home Delivery
on all orders
Pick up orders
from local bookshops
Reviews
Showing 1 - 5 of 5 reviews.
Review by deargreenplace
16/06/2015
I don't normally read books about the Second World War. Or any war for that matter. The knowledge of the horror being so real puts me off - you know before you start that the characters will suffer somehow. Besides, there are lots of other kinds of books that I like to read.The Book Thief became an exception because it has had so many good reviews. And the hook for me was that the book is narrated by Death. As you might imagine, Death is kept quite busy during WW2. He first encounters a little girl called Liesel when he takes her younger brother's soul on a train, as they travel to Munich to be cared for by strangers while their mother is sent away for being a communist. The Book Thief is really Liesel's story.Her new 'parents' are a colourful pair who seem odd at first but soon grow to love Liesel. The war is certainly present in her life, but she quickly makes good friends on Heaven Street, challenging the boys at football and developing a fancy for theft. The significance of the dangers that come with war are soon affecting her life though, as her new father Hans fulfills an old promise made to a friend many years ago.I couldn't say that The Book Thief would be high on my list for praise. Considering the subject matter though, it has occasional moments of dark humour, and Death is an amusing narrator. It is moving towards the end I'll admit, but I didn't find myself reading the rest thinking how wonderful it was. As Death admits, it is a small story of a childhood in wartime.
Review by soliloquies
16/06/2015
I've tried so many times to read this book, but cannot get into it. It's had such good reviews and the whole premise is marvellous - but it's just not for me, obviously.
Review by MeganB66
16/06/2015
This is by far my absolute favorite book to date! A story of a young german girl during WWII whose mother left her to be raised in a foster home. The narrator, death, finds himself intrigued with the young girl early on and find himself running into her throughout her life. An amazing book that really brings you into Liesels life and makes you fall in love with all the characters. Though there are many books of the holocaust this book truly showed me what the time really was like in a completely unique way. Highly recommended book to any young adult and up, you will love it!
Review by siri51
16/06/2015
Difficult subject matter but well written. Glad that I was told it was narrated by "death' or the beginning would have been confusing.
Review by MyExpandingBookshelf
16/06/2015
The Book Thief was quite a weird book for me to read not because it isn't something I usually read. But because although I absolutely loved it, I really struggled to get into it and at times I couldn't be bothered to read it. Hence why it has taken me slightly longer to get through it.In basic terms, The Book Thief is about the life of a young German girl and her family and friends during World War II. The book begins with Liesel being sent to live with a foster family: Hans and Rosa Hubermann. She is a young girl of 10 years old and doesn't understand why her mother is sending her away. She has also been left traumatised by her younger brothers death during the journey and has nightmares for months afterwards.The Book Thief is narrated by Death and Zusak has done an amazing job in turning death into a character. Death is probably one of my favourite characters in the book just because of his unique way of telling Liesels story and his descriptions are brilliant. Death describes all the characters in a way that makes them feel real to the reader and also makes you truly feel for them. However, The Book Thief is not a story that keeps you guessing as Death has a tendency to give away spoilers many chapters before the events happen, even at the start of the book. So you always have a vague idea of what will happen but it is a great story regardless.The Book Thief is a book that had me smiling in parts as well as being in tears in others. This is mainly due to how much you as a reader end up caring for Liesel and her family and friends, including Hans, Max and Rudy. Liesel goes through so such a short period of her life and it goes to show just how the war affected not only the soldiers but those left at home, especially the children.Overall, I gave The Book Thief 4/5. Mainly because though I loved the story, I did struggle to even pick up the book at times. But that could just be everything else in my life affecting my reading as I have had a lot going on at the moment. So I may feel differently and give it a 5 if I ever read The Book Thief again (which I probably will).