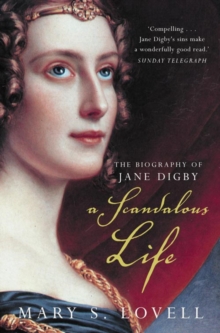 A Scandalous Life: The Biography of Jane Digby
Paperback
Description
The biography of Jane Digby, an 'enthralling tale of a nineteenth-century beauty whose heart - and hormones - ruled her head.' Harpers and Queen A celebrated aristocratic beauty, Jane Digby married Lord Ellenborough at seventeen.
Their divorce a few years later was one of England s most scandalous at that time.
In her quest for passionate fulfilment she had lovers which included an Austrian prince, King Ludvig I of Bavaria, and a Greek count whose infidelities drove her to the Orient.
In Syria, she found the love of her life, a Bedouin nobleman, Sheikh Medjuel el Mezrab who was twenty years her junior.
Bestselling biographer Mary Lovell has produced from Jane Digby's diaries not only a sympathetic and dramatic portrait of a rare woman, but a fascinating glimpse into the centuries-old Bedouin tradition that is now almost lost.
Information
Format: Paperback
Pages: 384 pages
Publisher: HarperCollins Publishers
Publication Date: 01/09/1996
ISBN: 9781857024692
Free Home Delivery
on all orders
Pick up orders
from local bookshops
Reviews
Showing 1 - 4 of 4 reviews.
Review by wyvernfriend
16/06/2015
Jane Digby is an amazing woman. A woman who lived a late 20th Century life in the 19th Century. Who was divorced at a time only 2-3 people were divorced per year in England. Had affairs with Kings and Lords and who remained friendly with all her exes throughout her long life. Also a woman who ended her life, still regarded as a beauty, in the middle east, married to a bedouin Sheik. She also met people like the Burtons while in Damascus.An interesting biography about a woman who caught the attention of her biographer, Mary S Lovell, through a chance remark at a cocktail party. Through her research she seems to have got to know her character quite well and genuinely come to like the woman she was writing about and genuinely cared about her. With access to her papers through the family, and with their co-operation wrote an interesting account. The author seems to be someone who has that deft touch with people and an infectious enthuaism for her subject that leaves people after her continue to search for more information for her.The book left me with an urge to learn more about the people around Jane Digby but left me feeling like I'd experienced a significant amount about her. The Author admits when she couldn't find information and although she links available information she admits to conjecture. I would read more written by this author and more about this period, and maybe more about the people she knew.
Review by gbelik
16/06/2015
What a fascinating woman Jane Digby was. She was married several times and involved with several other men as lovers in a very unusual 19th century life. She was also a competent manager of her property and various households and a kind and loving friend and relative, keeping in a cordial relationship with former husbands and with a family who were disgraced by her behavior. Her final decades married to a Bedouin sheik in Syria would be an unlikely fiction if not true. She was an extraordinary woman, not just for her time, but for any time.
Review by JEB5
16/06/2015
Born into nobility, Jane Digby was raised to be a lady but ended up living a life full of adventure, love, and scandal for the 1800s public. Her name was one that became legendary, synonymous with scandal and breaking the rules of society. Married as a teenager, her husband was too busy for her resulting in her finding love elsewhere. This search for love would be a lifetime adventure that would lead from England, to France, Germany, Italy, and finally Damascus. The lover of lords, barons, kings, and sheiks among others hers was a life about love, desire, and fulfillment. <br/><br/>Mary Lovell has thoroughly researched Ms Digby's life - calling on her surviving relatives for access to Jane's diaries, letters, paintings, and sketches. In the bits and pieces that have been left behind for posterity, Ms Lovell has succeeded in writing a fascinating account of a life lived outside of society's boundaries. Her writing is enthralling and this biography was not only a page turner but one of real-life adventure.
Review by mbmackay
27/01/2016
This is a surprisingly good book. I got hold of it before a trip to the middle east, thinking it might provide some 'colour' (which it did) but it gave much more than that.The story of an upper class British woman, Jane Digby, born in the early 1800s who failed to fit the mould. She married young (as expected) but got bored and took lovers (possibly expected) with who she fell madly in love (certainly not expected). She also failed to be discreet and her husband, an MP divorced her in an era where a divorce decree was an Act of Parliament. The details were so salacious that the Time moved the coverage of the divorce to the front page of the paper (and this was before the Murdochs owned the paper!).Jane was effectively banished from the UK and lived the balance of her long and interesting life in Europe and the middle east. There was a succession of passionate love affairs with important people, most of which ended badly. Her final romance was a 20+ year marriage to a bedouin Sheikh in Syria, which involved living part of the year with her husband on camelback.The author has access to a wealth of information, including detailed diaries kept by the subject. Later family members bowdlerised small parts of the record (it is hard to imagine what would have been more lurid or explicit than the details that remained) but Digby was of such prominence that her life was also well recorded by others.The author manages to tell the story of the life without injecting her views or judgements. The reader is thus able to reflect, without being led, on the actions of Digby. Had she lived in the late 20th century, her life would have seemed unremarkable. A highly intelligent and highly passionate woman who loved too much and too unwisely would not attract too much attention.I was fascinated. Digby must have been a wonderfully strong personality, and I feel privileged to be able to know about life.Read July 2015.