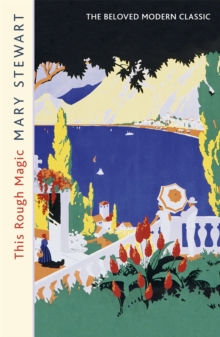 This Rough Magic
Paperback
Description
When her sister invites her to stay in Corfu, Lucy Waring couldn't be happier - a cheap holiday in the sun, in one of the most beautiful places in the world, offers a welcome change of pace from the noise and rain of London. What's more, their nearest neighbour on the island is a famous, reclusive actor...with a handsome, if arrogant, son.
But when a body washes up on the beach, Lucy finds herself caught in a vortex of danger, deceit and murder. A stray breeze moved the pines, and I heard a bee go past my cheek, travelling like a bullet.
The dolphin arched suddenly away in a deep dive. The sea sucked, swirled, and settled, rocking, back to emptiness.
Another bee shot past me, with a curious, high humming.
I understood then. I'd heard that sound before. Someone was shooting at the dolphin from the woods above the bay. Mary Stewart's eighth novel of gothic romance, This Rough Magic is a must-read for anyone who delights in adventure and romance.
Featuring her sparkling prose and witty dialogue, This Rough Magic has delighted readers for half a century.
Information
Format: Paperback
Pages: 416 pages
Publisher: Hodder & Stoughton General Division
Publication Date: 17/03/2011
Category: Crime & mystery
ISBN: 9781444720501
Free Home Delivery
on all orders
Pick up orders
from local bookshops
Reviews
Showing 1 - 1 of 1 reviews.
Review by shanaqui
16/06/2015
This was exactly what I needed after handing in my dissertation yesterday. Adventures and romance with a touch of danger, but where you're pretty sure it'll turn out okay in the end, and if you've read any Mary Stewart at all, you know it'll end with a wedding. There's your usual plucky heroine, a couple of potential love interests, and the usual exotic setting, this time in Corfu, and this time laced with Shakespeare -- which might put some people off, because I don't tend to like books that try to do something with Shakespeare, whether it be modern retellings (which makes me wonder why I did pick up a copy of Anne Fortier's Juliet -- sheer curiosity, I suppose) or finding a lost sonnet or love affair or the true identity of Shakespeare. But this doesn't aspire to such lofty heights: one of the characters claims that Corfu was the setting of The Tempest, but there's not too much emphasis on that. Rather, it's about smuggling and murder and our brave heroine throwing herself into the middle of that, making assumptions, and at the end falling into the comforting arms of her lover.<br/><br/>So, Mary Stewart as usual. This one is fun, and while I didn't find it quite as atmospheric as, say, My Brother Michael, when it came to evoking the landscape, still it was there and very clearly drawn. I was amused by the reference to colonialism in the way that Lucy mocked the guide talking about Corfu "coming under the protection of" the British Empire, when of course the whole book is still rife with that attitude -- her condescending attitude toward the Corfiotes and their religion, the fact that they needed a bunch of British people to sort out their problems, the savage side of them that's revealed toward the end of the book... It's mostly benign, but it's still there if you open your eyes to it. Fortunately, since I've read a fair few Mary Stewart novels now, I was expecting it and it is, of course, very much of its time.<br/><br/>So all in all, another fun outing for me with Mary Stewart.