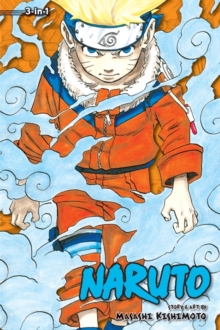 Naruto (3-in-1 Edition), Vol. 1 : Includes Vols. 1, 2 & 3 Vols. 1, 2 & 3
Paperback
Description
12 years ago, the Village Hidden in the Leaves was attacked by a fearsome threat.
A nine-tailed fox spirit claimed the life of the village leader, the Hokage, and many others.
Today, th village is at peace and a troublemaking kid named Naruto is struggling to graduate from Ninja Academy.
His goal may be to become the next Hokage, but his true destiny will be much more complicated.
The adventure begins now!
Information
Format: Paperback
Pages: 600 pages, chiefly Illustrations
Publisher: Viz Media, Subs. of Shogakukan Inc
Publication Date: 26/05/2011
Category: Manga
ISBN: 9781421539898
Free Home Delivery
on all orders
Pick up orders
from local bookshops
Reviews
Showing 1 - 2 of 2 reviews.
Review by catfantastic
16/06/2015
I borrowed this one from my brother. <i>Naruto</i> is a shonen action/adventure series about ninja and wouldn't have been a normal choice for me, but I still enjoyed it quite a bit. Naruto is an orphan boy living in a secret ninja village. Everyone resents him, so he acts out as a brat and a trouble-maker. He doesn't know it is because he has a nine-tailed demon fox spirit sealed within him that attacked the village years ago. Naruto is driven to become not only a ninja, but the <i>best</i> ninja, so that all the people who ignored or looked down on him will be forced to respect him. To this end, he rushes headlong into every confrontation and test, but he's a bit of a blunderer and often falls flat on his face. Once Naruto becomes a "junior" ninja he get paired with two of his classmates - Sakura, a girl he has a crush on, and Sasuke, the broody class heartthrob. With their teacher, an elite ninja named Kakashi, they begin to receive assignments. The group is sent to the Land of the Waves to protect a bridge builder from an evil billionaire crime boss named Gato. While there, they see the pain and poverty that Gato has inflicted on the island, and are faced with defeating the powerful rogue shinobi that work for him, the assassin Zabuza and the the beautiful boy Haku. The action never stops, but there's a powerful emotional current to the story as well. Naruto is such a brat, but his stubborn attempts - and hilarious failures - make him really endearing. And despite being a knucklehead and throwing temper tantrums when things don't go his way, he never sinks into self-pity or angst and is really determined to succeed. The art is good and the characters are all very diverse and interesting, with their own motivations and personalities, as well as powers and techniques. My favourite may be Haku - who is so beautiful Naruto mistakes him for a girl (<i>"The world is an amazing place sometimes!"</i>). It's also pretty funny, the expressions cracked me up a few times while reading it. All in all, a fun action/adventure story. I am surprised at the low production quality VIZ is putting into these omnibus editions, though. The same publishers who are giving us beautiful omnibus editions of <i>Fushigi Yuugi</i> and <i>X</i> have put out a really cheap product with regards to <i>Narutro</i> - thin, newsprint quality paper, no colour pages, and some pages with the text partially cut off!
Review by ElizaJane
16/06/2015
Since this is in Shonen Jump, my son asked for the first volumes and he got this for his birthday last year. I try to read what he reads so we can talk about it and I want to be versed in the popular titles. This series started way back in the golden age of the '90s so has a lot of typical manga elements from that period. Exaggerated emotions, especially. This used to bother me, but I've read so much now, that I find it fun and nostalgic to read '90s stuff. This omnibus contains Vol. 1: Uzumaki Naruto, Vol. 2: The Worst Client, and Vol. 3: Dreams. I was in love with the book by the end of the first volume as I took to the characters right away and this ninja title hadn't been anything like I thought it would be. The three main characters are great, even though each has a stereotypical type. Throughout the three volumes Naruto changes the most. He starts off as an immature kid, annoying at times, just wanting and assuming he will be the best, biggest hero ever by the end of his training. Well, during the next two volumes, he gets a dose of reality and matures quite a lot that as we enter Vol. 4 we are going to find a different Naruto. The plot revolves around their training to become ninjas, which they complete and then their special training under a master and they begin going out on missions with him while being trained in high level ninja arts at the same time. They've taken a mission to protect a man as he goes home but find that he hasn't told them the whole truth and that a mafia type guy is really after him. Battles ensue. Sasuke's character's background is revealed and some of the mystery about him is lifted. Now the ninjas find out that other assassins have been sent out to kill them (or is it just their master). Battling with a super cool Ninja, Zabuza, is great stuff. I liked this beginning very much. The plot is simple and easy to understand; the characters are likable; the villains fun; and good humour for an all around enjoyable entertaining read.