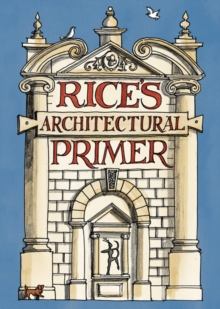 Rice's Architectural Primer
Hardback
Description
RICE'S ARCHITECTURAL PRIMER covers the grammar and vocabulary of British buildings, explaining the evolution of styles from Norman castles to Norman Foster.
Its aim is to enable the reader to recognise, understand and date any British building.
As Matthew Rice says, 'Once you can speak any language, conversation can begin, but without it communications can only be brief and brutish.
The same is the case with Architecture: an inability to describe the component parts of a building leaves one tongue-tied and unable to begin to discuss what is or is not exciting, dull or peculiar about it.' RICE'S ARCHITECTURAL PRIMER will explain the language of architecture.
With it in your hand, pocket or car, buildings will break down beguilingly into their component parts, ready for inspection and discussion.
There will be no more references to that curly bit on top of the thing with the square protrusions.
Ungainly and inept descriptions will be a thing of the past and, fluent in the world of volutes, hood moulds, lobed architraves and bucrania, you will be able to leave a cathedral or country house with as much to talk about as a film or play.RICE'S ARCHITECTURAL PRIMER starts with an explanation of the basic 'Grammar' of buildings: elevation, plan, roof, gable and eave.
This will enable the reader to better make use of what is to follow.
It will also cover the Orders of Architecture - Doric, Tuscan, Ionic, Corinthian and Composite - so that the vital basics of Classicism are covered.
Following this is the 'Vocabulary'. This will be a chronological reference section covering, period by period, the windows, doors and doorcases, columns, chimneys, arches, balustrades and pediments that make up the built environment.
Information
Format: Hardback
Pages: 240 pages, Colour Illustrations throughout
Publisher: Bloomsbury Publishing PLC
Publication Date: 06/07/2009
Category: Architecture
ISBN: 9780747597483
Free Home Delivery
on all orders
Pick up orders
from local bookshops
Reviews
Showing 1 - 2 of 2 reviews.
Review by Xleptodactylous
16/06/2015
This book contains information and beautiful illustrations that explain and explore the terminology of British architecture; from the Classical styles of the Romans to the modern and full-of-glass of the 21st Century. The book is illustrated by hand instead of utilising photographs to remove the complication and focus upon what it is Rice is trying to convey to us.<br/><br/><br/>I wish I were an architect. I think I have always been fascinated with buildings, but it was until recently I found myself endeavouring to know what it all meant. What these lines were for, even if only for decoration; why certain aspects of a building seemed to partner certain other things most of the time; what a flying buttress actually was.<br/><br/>I can't actually find words to express my love for this book. I obviously haven't read every single word on the page because that would be too mind-expanding and would overload me with so much architecture lingo I'd probably suffer an aneurysm. This book needs to be delved in to at stages, and perhaps not even from cover to cover but at any page at random. You also need to heed his words at the beginning and commit a few terms at the beginning and take a few days to really immerse yourself in the architectural world, if only to stop yourself from really becoming lost.<br/><br/>There are no faults with this book that I can see, though that is probably my own ignorance that stops me from seeing it. This book is all about teaching through the beauty of architecture and I can only say "read it".
Review by GeoffSC
16/06/2015
A good visual reference to architectural features of buildings. I enjoyedthe subtle humour in some of the sketches.