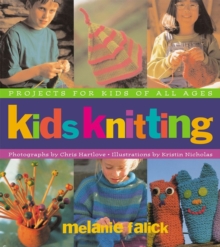 Kids Knitting : Projects for Kids of All Ages
Paperback
Description
In fifteen easy projects, from bouncy bean bags to a rolled-edge sweater, author and knitting expert Melanie Falick teaches kids of all ages how to knit. Through step-by-step instructions and candy-colored illustrations, beginners learn the fundamentals: knitting tools, finger-knitting, and basic stitches such as knit, purl, mattress, overcast, embroidery, and stockinette.Kids Knitting emphasizes fun in every step of the learning process. Sunny paintings by Kristin Nicholas illustrate the individual steps of each technique. Bright boxes of blues, greens, and reds explain everything from button-sewing to tassel-tying. Charming photographs by Chris Hartlove feature finished projects modeled by the creators themselves--all kids who knit. Best of all, kids get to keep and use whatever they make: bookmarks, backpacks, bracelets, even their own set of customized knitting needles, topped with acorn caps or polka dot balls.
Information
Format: Paperback
Pages: 127 pages, 40 colour photographs, 50 colour illustrations
Publisher: Artisan
Publication Date: 26/09/2003
Category: Knitting & crochet
ISBN: 9781579652418
Free Home Delivery
on all orders
Pick up orders
from local bookshops
Reviews
Showing 1 - 5 of 5 reviews.
Review by kkluttz
16/06/2015
I bought this book for myself as an adult when I was teaching myself to knit. The projects are appealing, the instructions simple (with BIG diagrams), and the colors are cheerful. Now that I am moving on to more advanced knitting, it's not really sufficient as a reference book, but it was a great starting point for me.
Review by Maiasaura
16/06/2015
I was given this book as a child when I first started knitting, and it has served me well even as I have gotten older. It explains techniques clearly and has good illustrations. The full-color photos of, well, kids knitting, lend good cheer to the book. It contains a number of projects suitable for both children and the adult beginner, and it's a great reference to have. I'd recommend it to anyone looking for an introduction to knitting.
Review by sonyagreen
16/06/2015
This is the book I'd buy for a kid who wants to learn to knit. Heck, I'd suggest it as the first book for an adult who wants to learn to knit too. There's a section on how to knit, and then patterns that use the skills explained.The increase in difficulty for patterns doesn't have a big jump (knit a scarf, then knit a sweater), and the patterns are wearable/useful.This one book would get you pretty far--meaning you could become a fairly proficient knitter using the explanations and patterns in this book, without having to go find other books.Caveat: I haven't knit any of the patterns, so I don't know how readable/clear they are.
Review by KSchimmel
16/06/2015
The best book, hands down, for teaching knitting. I've used it with kids from age 9 on up. I also recommend it for adults who don't have anyone around to help them learn, because the illustrations are superb.
Review by jbarr5
09/10/2015
Kids KnittingLots of useful information about how to start knitting. Great projects for kids to learn the craft.Love the charity aspect of this book. Tips along the way. Liked hearing the traditional patterns used by other countries around the world.Lots of possibilities with different patterns are included. I received this book from National Library Service for my BARD (Braille Audio Reading Device).
Also by Melanie Falick