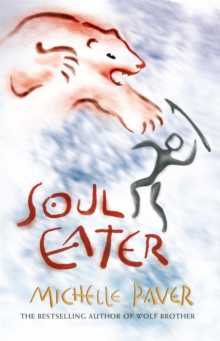 Description
Torak has survived the summer and his heart-stopping adventure in the Seal Islands. He and Wolf are together again. But their reunion is all too short-lived. As mid winter approaches Torak learns the worst from the White Fox clan - Wolf has been snatched.
In a desperate bid to rescue him, Torak and Renn must brave the frozen wilderness of the Far North.
They tread a deadly dangerous path as they step into a world of deceit, treachery and lies and come face to face with the the most powerful and feared mages alive.
Cruel Thiazzi, the Oak Tree Mage, Seshru the Viper Mage, beautiful and manipulative, and Nef the gruff Bat Mage - here too is Eostra, the mysterious Masked One - all of them bound by their desire for all creatures to bow before them.
Under the dark wings of night Torak confronts vengeful ice bears, mistrust, broken promises and a terrifying evil.
Another step is taken on his quest to destroy the Soul-Eaters, but with it comes the burden of an utterly chilling secret of his own...
Information
Format: Paperback
Pages: 288 pages, maps
Publisher: Hachette Children's Group
Publication Date: 07/06/2007
Category: Fantasy
ISBN: 9781842551141
Free Home Delivery
on all orders
Pick up orders
from local bookshops
Reviews
Showing 1 - 2 of 2 reviews.
Review by spud2000
16/06/2015
My overall favourite of the series. This book set in the Artic, you see all of the remaining Soul Eaters from book 2. Torak and Renn follow three Soul Eaters into the frozen north. But their adventure soon goes pear shaped when Renn finds she is frightened of the ice rivers, due to personal reasons.
Review by ImperfectCJ
16/06/2015
My daughter had four of the six books in the <i>Chronicles of Ancient Darkness</i> series out from the library at the same time, rushing through one after another. I've been trying to catch up with her, so when I finished <i>Spirit Walker</i> (book 2), I picked up <i>Outcast</i>, thinking it was book 3. <br/><br/>As I read, I had a feeling that something was missing, that Paver was making references to things I didn't remember, but I thought maybe she was just changing up the formula a bit, keeping the reader in suspense and planning to reveal the rest of the story later. I was 90 pages into <i>Outcast</i> when I finally looked at the spine of the book and saw that it was book 4, not book 3. So, I set <i>Outcast</i> aside and got <i>Soul Eater</i> from my daughter.<br/><br/>What's funny is that near the end of <i>Soul Eater</i>, Paver actually uses the technique I'd suspected her of at the beginning of Outcast. We've got this period of lost time in which this thing happens that makes it so Torak has to keep another secret from the Raven clan and sets up the conflict for the next book (although I didn't realize the period of time was lost until Paver mentioned it, and I still can't figure out when exactly this particular scene could have happened).<br/><br/>The books still tell a fairly intriguing story, but I think I'm growing weary of them. Torak just can't seem to catch a break, and that grows tiresome. He's really not learning a lot along the way, either; every book he makes the same mistakes, relying too much on himself and not enough on his friends, keeping secrets when he should be confiding in those he can trust. Harry Potter, Percy Jackson, and Torak are all cut from the same cloth, it seems. I can only hope that this means that Torak will eventually grow from his experiences rather just getting into---and out of---scrapes over and over and over again. I'd really like to see the series turn into a coming-of-age story. He's the right age for it, but so far, I'm not seeing a lot of evidence that's going to happen.<br/><br/>I don't know. I do like the idea in the stories that the potential for evil actions lives in each of us, the whole "chasing demons and soul eaters" thing is just getting a little old. But the books don't take very long to read, and my daughter really likes talking to me about them, so I'll probably finish the series.
Also in the Chronicles of Ancient Darkness series | View all