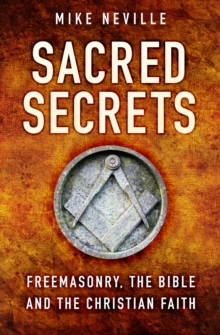 Sacred Secrets : Freemasonry, the Bible and Christian Faith
Paperback
Description
Masonic 'secrets' are of great interest to a wide audience - whether Freemasons or not.
The popularity of Dan Brown's books has shown the enormous interest in Masonry.
There is, however, no other book that offers any form of guide to the stories used in Masonic ritual and their links to the Bible and Christianity.
Additionally, this book is user friendly and easy to read, and will be a valuable addition to the library of anyone interested in Freemasonry.
The new Mason is directed to a 'serious contemplation of the "Volume of the Sacred Law" - this book will enable initiates to understand the Biblical text.
Furthermore, it is a guide to the historical and geographical setting of the Bible for all Freemasons and will allow them to make a 'daily advancement in Masonic knowledge'.
Much of the ritual is based on the Bible, but many younger Masons may not have had 'scripture' lessons at school or attended Sunday school.
Hence, many of the Biblical characters and stories will be unknown to them.
Without this knowledge, much of the ritual is very difficult to understand.
This book bridges that gap. It will help Freemasons to learn the ritual - it is easier to remember people, places and things if you understand who or what they are.
It is the author's mission to get Freemasons to understand the ritual, not to just memorise and regurgitate it.
The contents will aid the clergy, theologians and any other person interested in Freemasonry to see the clear links between ritual and scripture.
It names the chapters of the Bible which have the most influence on the ceremonies and challenges the view that the ritual is 'Satanically inspired'.
Information
Format: Paperback
Pages: 256 pages, Illustrations
Publisher: The History Press Ltd
Publication Date: 01/06/2012
Category: Religion: general
ISBN: 9780752480510
Free Home Delivery
on all orders
Pick up orders
from local bookshops