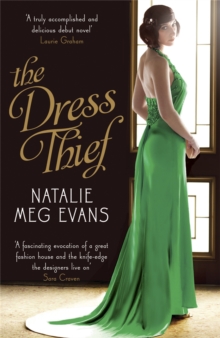 The Dress Thief
Paperback
Description
'Wonderful! I didn't want to put this book down' Amazon reviewer.
Perfect for fans of The Villa in Italy, Island of Secrets and Amy Snow.Alix Gower may be poor but she's also ambitious, and she'd do anything to secure her dream job in one of Paris' premier fashion houses.
But Alix also has a secret: she supports her family by stealing from the very houses she so adores.
Then Alix is unexpectedly given a break - a way to support her elderly grandmother and a future she can believe in . . . but it comes at a terrible price. Will Alix risk her reputation, her relationships and even her personal safety for a dream? And is the handsome English reporter she keeps bumping into really to be trusted?
The Dress Thief is an award-winning, atmospheric novel about love, dreams and betrayal.
Information
Format: Paperback
Pages: 592 pages
Publisher: Quercus Publishing
Publication Date: 05/06/2014
Category: Historical romance
ISBN: 9781848665880
Free Home Delivery
on all orders
Pick up orders
from local bookshops
Reviews
Showing 1 - 1 of 1 reviews.
Review by Kris_Anderson
27/08/2015
I have just finished the novel called The Dress Thief by Natalie Meg Evans. Alix Gower is living in Paris, France during the 1930's. She lives with her grandmother, Danielle. They were living in England, but her grandmother no longer felt safe (she is Jewish). She persisted until Alix agreed to go to Paris (talk about going from the frying pan to the fire). Alix works as a telephone operator, but in order to make more money (living in Paris is more expensive than London) Alix starts stealing designs. Alix has a good memory and an eye for fashion. Her friend, Paul le Gal showed her how to pirate designs (for a cut of the take). Paul then gives them to his contact. The designs are then cheaply reproduced in America. Alix does not enjoy this line of work, but she does not know how else to earn the extra money they need.Alix was lucky to get a good education thanks to Jean-Yves, Comte de Charembourg. He is a friend of the family and knew her grandfather. Alix thinks there is more to the story, but she cannot get answers. When Alix gets fired from the telephone exchange, Paul's contact gets her an interview with Maison Javier. Alix loves his designs. Alix gets the job, but she does not like stealing designs from Javier. But with their rent being raised (thanks to world's fair), she does not have a choice. Then someone starts threatening Alix. She is attacked and is given a message for Comte de Charembourg. Someone is blackmailing the Comte for money. What did he do? Until he pays up they are threatening Alix and those he cares about (the blackmailer must know more about the relationship between Alix and the Comte than Alix does). Verrian Haviland is the second son of an English noble and a journalist. He has been reporting on the Spanish Civil War when he had to leave Spain quickly. Verrian and Alix are destined to meet from the minute he needs help with a phone call (before she gets fired from the telephone exchange). Can they work out their differences to be together? Will Alix get caught pirating designs? Who is behind the blackmail?I give The Dress Thief 4 out of 5 stars. It is a good story, but a little long (the length of one and a half books). There are also parts that I felt could have been eliminated or were not needed for the story. The book does contain drugs, excessive alcohol drinking, and sex. I enjoyed reading about the fashion industry during the 1930's. The fashions during that period were so beautiful with exquisite details. All the work that goes into making a collection and then someone steals your designs! I did enjoy the mystery in the book (the blackmail). The person behind it was obvious, but I enjoyed following the clues to find the culprit.I received a complimentary copy of The Dress Thief in exchange for an honest review. The review and opinions expressed are my own.