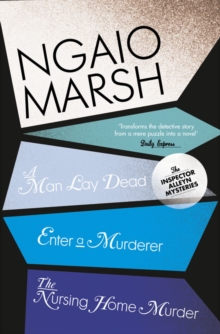 The Ngaio Marsh Collection (1) - A Man Lay Dead / Enter a Murder / The Nursing Home Murder
Paperback
Description
Commemorating 75 years since the Empress of Crime's first book, the first volume in a set of omnibus editions presenting the complete run of 32 Inspector Alleyn mysteries.
A MAN LAY DEAD Sir Hubert Handesley's extravagant weekend house-parties are deservedly famous for his exciting Murder Game.
But when the lights go up this time, there is a real corpse with a real dagger in the back.
All seven suspects have skilful alibis - so Chief Detective Inspector Roderick Alleyn has to figure out the whodunit...ENTER A MURDERER The crime scene was the stage of the Unicorn Theatre, when prop gun fired a very real bullet; the victim was an actor clawing his way to stardom using bribery instead of talent; and the suspects included two unwilling girlfriends and several relieved blackmail victims.
The stage is set for one of Roderick Alleyn's most baffling cases...THE NURSING HOME MURDER A Harley Street surgeon and his attractive nurse are almost too nervous to operate.
Their patient is the Home Secretary - and they both have very good personal reasons to want him dead.
The operation is a complete success - but he dies within hours, and Inspector Alleyn must find out why...
Information
Format: Paperback
Pages: 672 pages
Publisher: HarperCollins Publishers
Publication Date: 01/09/2009
Category: Classic crime
ISBN: 9780007328697
Free Home Delivery
on all orders
Pick up orders
from local bookshops
Reviews
Showing 1 - 2 of 2 reviews.
Review by riverwillow
16/06/2015
A Man Lay DeadThis was a gift from my LT SantaThing Santa and I am so pleased. I am a fan of classic crime fiction, even so I've never read any of Ngaio Marsh's books before. Although this is a fairly generic country house murder mystery -although I will confess I was clueless as to the identity of the murderer - you can see the seeds of greatness here. I particularly like how Alleyn uses one of the murder suspects, who Alleyn has declared 'innocent', to help him solve the crime. Enter a MurdererI really enjoyed this, the first of Ngaio Marsh's theatre mysteries. I will confess that, as in As a Man Lay Dead, I was clueless as to the identity of the murderer. You can really see the beginnings of her greatness here and, unlike Poirot, Ms Marple and Wimsey, Alleyn's personal life and history are a mystery. Wonderful. The Nursing Home MurderAnother enjoyable read. Sir Derek O'Callaghan dies following an emergency appendectomy, his wife is convinced he's been murdered and calls in Inspector Alleyn. This is an inventive and intriguing murder mystery, full of red-herrings although I did feel slightly let down by the revelation of the murderer and the reasons why, but only slightly.
Review by Condorena
16/06/2015
Marsh's first three mysteries written in the early 1930's. There is also a heartwarming short story she wrote in 1935.<br/><br/><br/><br/>