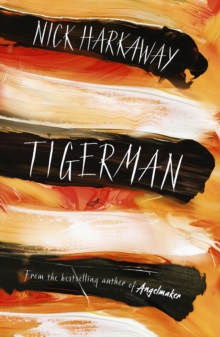 Description
Lester Ferris, sergeant of the British Army, is a good man in need of a rest.
He's spent a lot of his life being shot at, and Afghanistan was the last stop on his road to exhaustion.
He has no family, he's nearly forty and burned out and about to be retired.
The island of Mancreu is the ideal place for Lester to serve out his time.
It's a former British colony in legal limbo, soon to be destroyed because of its very special version of toxic pollution - a down-at-heel, mildly larcenous backwater.
Of course, that also makes Mancreu perfect for shady business, hence the Black Fleet of illicit ships lurking in the bay: listening stations, offshore hospitals, money laundering operations, drug factories and deniable torture centres.
None of which should be a problem, because Lester's brief is to sit tight and turn a blind eye.
But Lester Ferris has made a friend: a brilliant, Internet-addled street kid with a comicbook fixation who will need a home when the island dies - who might, Lester hopes, become an adopted son.
Now, as Mancreu's small society tumbles into violence, the boy needs Lester to be more than just an observer. In the name of paternal love, Lester Ferris will do almost anything. And he's a soldier with a knack for bad places: "almost anything" could be a very great deal - even becoming some sort of hero.
But this is Mancreu, and everything here is upside down.
Just exactly what sort of hero will the boy need?
Information
Format: Hardback
Pages: 384 pages
Publisher: Cornerstone
Publication Date: 22/05/2014
ISBN: 9780434022878
Free Home Delivery
on all orders
Pick up orders
from local bookshops
Reviews
Showing 1 - 5 of 5 reviews.
Review by pgmcc
16/06/2015
I finished Nick Harkaway's TigerMan a couple of days ago. I really enjoyed the book but it took a twist at the end that left me in an unexpected emotional condition. I think this is an excellent book and Harkaway has managed to affect the emotional state of the reader (in this case, me) with his words. There was one twist I suspected from quite early on but the final twist left me stunned.The first two books could be said to rely on somewhat extraordinary science, or matters that require a suspension of disbelief. Tigerman does not depend on any non-existent technology. It is about human emotions, the truth behind political positions, the reality behind international relations. For those readers that are not keen to read anything with major dependency on disbelief being maintained I would say this would be a good starting book for Nick Harkaway's fiction. Do not get me wrong, his other books are excellent, but I am more tolerant of the weird or extraordinary than many people who will be reading this, but I would feel comfortable recommending anyone reading this book.
Review by psutto
16/06/2015
BrilliantHow does an author follow up an award winning book? By writing something completely different but equally compelling. This is the trick that Nick Harkaway has pulled off with this, his third book. Lester Ferris is a sergeant in the infantry who winds up on the island of Mancreu after a tour in Afghanistan. This is a former British colony in the Arabian sea that has been given over to the NATO and Allied Protection Force of Mancreu (NatProMan). Technically Lester is the senior officer of the United Kingdom's Mancreu command and senior consular member. But the whole island is imminently going to be demolished due to an extinction level threat from outgassing of toxicity and mutant bacteria from volcanic vents. Previous outgassings have had some unusual properties and are totally unpredictable.Lester has established several fair weather friendships but none so important to him than with 'the boy', a comics book obsessed, internet savvy local youth who calls himself 'Robin'. He is also friends with the NatProMan man in charge, the Japanese scientist studying the island and a local café owner. The island has become a bit of a backwater, due to people Leaving (yes with a capital L) and the UK government basically abandoning it. This has led to a fleet of illicit ships floating just off the island, listening stations, black-ops and all sorts of other shady dealings that governments can treat with plausible deniability.Lester's job is basically to keep the consulate ticking over and "not get involved" apart from to do some basic policing and representing Britain in a nominal way. When violence starts to spread and Lester gets more involved with the boy it becomes ever more difficult for him to remain aloof and he feels the need to become involved, which the boy encourages. It isn't long before the legend of the Tigerman is born.Tigerman, although ostensibly built like a superhero origin tale and drawing on comic book colour ("full of win", "We are made of awesome") is an endearing paternal tale and a complex character study. In fact Tigerman only just dips its toe into genre and if you're looking for full on SF&F then this may not be the place to look. However it is a great read and Mancreu and its colourful cast of characters is a great place to visit for the duration of this book. It has things to say about politics and the state of the world making It a more reflective book than the previous two, but all the more powerful for it. It is also a book, like Gone Away World where, when you get to the end, you are tempted to start all over again. That, I feel, is the sign of a great book.Overall - Harkaway just seems to be getting better, if you like his other books go and get a copy
Review by clfisha
16/06/2015
Harkaway's 3rd book and for me his best, his tightest, his most heart wrenching. Mancreau, a forgotten island backwater, a ticking time bomb of environmental disaster. A legal no mans land where no one ever looks at the sinister fleet offshore. A place where the international community is supervising the achingly slow exodus whilst the world tries to make up its mind about what to do about it all. A town where Lester Ferris, burnt out at the tail end of a soldiering career, goes to caretake the island in the name of the long dead and highly embarrassed British Empire, where he is told to turn a blind eye to all and he does except there is an orphan. A brilliant, self taught comic fixated boy that he wants to offer a future too away from the doomed place. Except ... well except he is running out of time and everything is about to implode.It is at once a gripping action adventure, a riff off superhero tales, a heart wrenching story of fatherhood, a scary near-fantastical take on man-made ecological disasters, an intriguing murder mystery and a very modern look at how the (mostly western) International stage plays out in microcosm, from delicious comedic prods at (accurate) national stereotypes to a glimpse at the dark heart of liberal democracies with their hidden renditions, torture and plausible deniability and shocking apathy. It is at once a cruel cry for help in an unloved backwater and a very human, heroic response.Such an ambitious book that could very easily fail under its own weight but is effortlessly held by a master class in characterisation. Lester may be the pivotal point but I can't think of a person that isn't nuanced in some way, from the Kershaw the Amrican intellgence agent overseeing all to the darker Pechorin working for the Ukraine. The plot is a pure joy to follow, whether you spot where it's going or are shocked to the core. Words like emotional rollercoaster and unputdownable spring to mind. As Harkaway mentioned in an interview an author should own every emotion, make a reader laugh with you and then make them weep or cry out in terror. I would have to say he succeeds for me totally in this. Hugely and highly recommended. It is a funny, exciting, intelligent and tragic story and is a pure joy to follow. It's also got one of the best openings ever.
Review by imyril
16/06/2015
This is probably Harkaway's least genre outing, in the sense that it doesn't feature global apocalypse, bombs that destroy reality, ninja, cake, steampunk monks or mechanical bees. I hope it furthers his road to a broader audience, because I think it's brilliant. This is Nick Harkaway writing a John Le Carre story. On the Le Carre side, Tigerman is a cynical commentary on politics (dirty) and culpability (deniable), and a touching exploration of the affections of an emotionally-battered sergeant with PTSD, unexpectedly making new connections during the final days of an island every government pretends doesn't exist (and soon won't, because they're going to blow it up). Lester Ferris channels many stereotypes (not least British discomfort with talking about feelings) and still feels real, thanks not least to Harkaway's deft touch in aside (The man had no calluses, and his eyes were perfectly empty may now be my favourite ever condemnation of the modern politician).By contrast, the boy Lester hopes to adopt is pure Harkaway and draws the narrative firmly back into his preferred domain. A streetwise cipher who speaks Internet, his English is a loose string of enthusiastic gaming, scifi, and comic references that had me in stitches. The boy's total attachment to genre entertainment turns the Le Carre set-up into a reluctant superhero story that feels almost credible - far-fetched as spy fiction, but firmly set in a recognisable world.The rollicking adventure races with a sense of inevitability, twisting and turning through plot development that is almost mythic in its familiarity. I did briefly think it was going to break my heart, but it didn't in the end (because I am less emotionally engaged by father/son bonding, being an only daughter who never had a father) - although it was immensely satisfying. In summary: wheeeeeeeeeeeee and also wooooo. Made of win.
Review by SChant
16/06/2015
Beautifully written - entertaining, funny and dramatic.