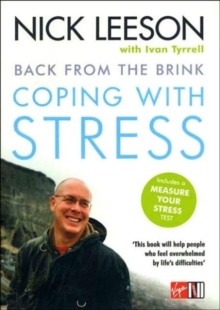 Back from the Brink : Coping with Stress
Paperback
Description
Imagine spending three and a half years in prison for causing the financial scandal of the century, being divorced by your wife and then, to cap it all, being diagnosed with cancer.
In 1995, Nick leeson's unchecked risk-taking caused the sensational collapse of Barings Bank.
He was sentenced to six and a half years in a gang-ridden Singaporean jail, in conditions that defy belief, while, at the same time, his wife left him and he was diagnosed with colon cancer.
His stress levels were immeasuable yet, against all odds, he survived.
Back From The Brink tells Leeson's complete personal story, whilst in-depth conversations with top psychologist Ivan Tyrell show how the continual levels of high stress that affected Nick's mental and physical health can be related to us all, including: - living with relationship and family problems, - struggling with debt, - striving to achieve status and success, - coping with serious illness.
These pressures are common to many of us yet Leeson's approaches to dealing with his experiences reveal inspirational methods of combating stress. The book enables readers to check their own stress levels by working through easy-to-use charts and questions, and Tyrell's clear, professional analysis and coping stratagies make Back From The Brink:Coping With Stress a practical yet inspirational book. this amazing story of recovery has real applications in the stressful climate of the modern world. 'My experiences may be unusual, but they offer real insight into how stress can get out of hand and affect all of us. this book will help people who feel overwhelmed by life's difficulties.'
Information
Format: Paperback
Pages: 192 pages, Illustrations
Publisher: Ebury Publishing
Publication Date: 23/06/2005
Category: True stories
ISBN: 9780753510759
Free Home Delivery
on all orders
Pick up orders
from local bookshops
Also by Nick Leeson