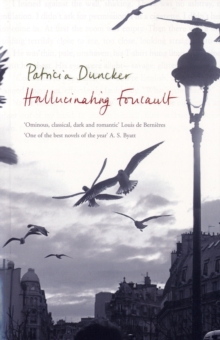 Hallucinating Foucault
Paperback
Description
In this ravishing tale of sexual and textual obsession, the young unnamed narrator sets forth from Cambridge on a quest.
He is to rescue the subject of his doctoral research, Paul Michel, the brilliant but mad writer, from incarceration in a mental institution in France.
What ensues is a drama of terrible intimacy and tenderness played out one hot and humid summer in Paris and in the south of France. "Hallucinating Foucault" is a literary thriller that explores with consummate mastery the passionate relationship between reader and writer, between the factual and the fictional, between sanity and madness.
In blurring these boundaries, Patricia Duncker has written a novel of astonishing power and beauty.
Information
Format: Paperback
Pages: 192 pages
Publisher: Bloomsbury Publishing PLC
Publication Date: 06/03/2006
ISBN: 9780747585152
Free Home Delivery
on all orders
Pick up orders
from local bookshops
Reviews
Showing 1 - 3 of 3 reviews.
Review by queen-of-the-geese
16/06/2015
I bought Hallucinating Foucault yesterday morning for my Literary Theory course. It is a slim novel of only 181 pages but has captivated me on every single one. I can't remember being this in love with a book in a long while. I knew by the end of the first chapter that it would be, without question, a favourite and that it would always hold a special place for me. It took me less than twelve hours for to finish, slotted between lectures and other University work.Hallucinating Foucault is written in the first person by an unnamed narrator, a young man who is researching his PhD thesis on a French author by the name of Paul Michel. Paul Michel is brilliant but mad, shut away from society in a French mental hospital for the past decade. The narrator becomes obsessed with his subject matter and travels to France to help set Paul Michel free, both physically and mentally. It is a book about the relationship between author and reader. It is passionate, ominous, romantic, dark and so very intimate.The character of Paul Michel is wonderful. Rather like the narrator, it is hard for the reader to make him out at times. He is mired in contradictions. I grew to love him just as the narrator did, yet he frustrated me and angered me. It is a mastery of characterization from Duncker. It isn't easy to create such a well rounded and deep character while treating mental illness (schizophrenia in this instance) with such respect. I am in awe.Patricia Dunckar's writing is clear and concise without being abrasive or clipped. It flowed beautifully and swiftly, rather like a thriller would do. It griped me from the first page and would not let go, not even when I'd finished. Hallucinating Foucault was Duncker first novel, and I will now look to read her other works. It is hard to describe how Hallucinating Foucault made me feel when I finished it. I felt completely empty, drained, as though I'd run an emotional marathon. Yet I was still filled with adrenalin and very tense. It is one of the books that when I finish I feel like weeping from tiredness. I slept badly that night, my mind running back and forth over the book while I waited for sleep. When I did drift off I dreamt about the characters in a strange abstract world, repeating words from the book over and over again. I still feel a bit winded. A friend asked if I thought it was cathartic and I had to think about that for a while. I was emotionally empty but I didn't exactly feel purged. What I do know is that I love this book deeply. It feels like an old old friend that I've found again after a long separation.
Review by StellaSandberg
16/06/2015
An elegant, well-written bagatelle that doesn't live up to its back cover blurbs calling it a dark and sinister thriller. Fittingly it's about as cool and detached as the books-within-the-book, only I never felt any sinister passion seeping through or authorial voice speaking to me and only me. We are told the narrator is scared, or obsessively in love, but I don't feel it and I don't share his fascination with the other characters (the Germanist, Paul Michel, Foucault...) Paul Michel does have a glimmer of life, I admit, but he's very far from competing with the most seductive fictional characters I've encountered. I appreciate the gay theme but find the oppression of gays exaggerated, the romantisation of self-destructive gay cruising culture a bit hard to swallow, and the novel's discretion when it comes to sexual matters counterproductive. It was a pleasant enough read but I'd rather recommend the Beebo Brinker series if you want gay tragic romance because frankly, there's no essential difference in quality.
Review by NeilDalley
16/06/2015
I was very impressed by this book and found it very moving. It is a complex story of the relationship between author and reader and has a wonderful thriller-like twist in it that I didn't see coming at all. The writing is crisp and immediate with some beautiful descriptions that re-create the emotions and feelings that go with a place. My one criticism is that if anything the book is too short which means that the author has not had time to develop and play out one of the key relationships in the story. For me this made that relationship seem a little unreal and a little two-dimensional. Despite this I would thoroughly recommend this book to anyone and I look forward to reading more of Patricia Duncker's work.