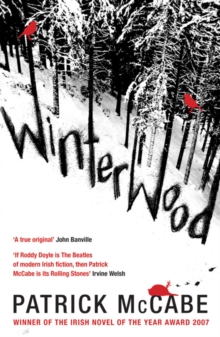 Description
Once, in Kilburn, married to the sugar-lipped Catherine and sharing his daughter Immy's passion for the enchanted kingdom of winterwood, Redmond Hatch was happy.
But then infidelity, betrayal and the 'scary things' from which he would protect his daughter steal into the magic kingdom, and bad things begin to happen.
Now Redmond - once little Red - prowls the barren outlands alone, haunted by the disgraced shade of Ned Strange, a fiddler and teller of tales from his home in the mountainy middle of Ireland.
Information
Format: Paperback
Pages: 256 pages
Publisher: Bloomsbury Publishing PLC
Publication Date: 03/09/2007
ISBN: 9780747585985
Free Home Delivery
on all orders
Pick up orders
from local bookshops
Reviews
Showing 1 - 2 of 2 reviews.
Review by MikeFarquhar
16/06/2015
Where Gough represents one extreme of Irish fiction running from Flann O'Brien through Father Ted, Patrick McCabe's Winterwood shows an Ireland of a very different sort. Redmond Hatch, for a time, had a happy life – married to his beautiful wife Catherine, holding down a mundane job as a reporter, and whiling away hours playing imaginary games with his young daughter. However when his own barely suppressed failings, followed by his wife's infidelity, come to the fore, Hatch's life falls apart and he ends up drifting through London and Dublin.Underpinning the story of domestic breakdown though is Redmond's relationship with Ned Strange, a seemingly benign old man from Redmond's home village in the Irish mountains, who Redmond has met some years previously when researching stories on traditional Irish life. Strange takes on an odd power for Redmond, as he becomes entwined with him to a degree that is never absolutely clear, and when Strange is subsequently disgraced and commits suicide, the effect on Redmond is profound.From the twin insults of domestic breakdown and Strange's fall, the first-person narrative becomes increasingly unreliable as Redmond's mind fractures under the strain and we are presented with a loosely coherent collection of memories and stories, the past and present bubbling through each other, all seemingly pieced together into a whole. As Redmond appears to rebuild his life, with a new identity, a new highly successful career in television and a new wife, there are glances into a parallel story, far darker, seeping into the cracks of his existence, that always seems to hang nebulously, tantalisingly, just out of reach.McCabe has written a hugely accomplished book. The unreliable first-person narrative serves to disquiet as you read, unsettling and adding to the darkly looming air of doom that builds oppressively through the book. McCabe manipulates the book's internal chronology to hugely powerful effect, as it becomes difficult to tease out which events have precipitated others as Redmond's recollection flows from point to point. McCabe's skill though is in creating that feeling of unsettledness without sacrificing the flow of the book.It's not an enjoyable book – you feel stained black to the soul after reading it – but it is an eerie, powerful read that captivates to the bitter end.
Review by imyril
16/06/2015
Troubled Red Hatch is haunted by fiddling man o' the mountain Ned Strange, who reminds him of (or may indeed be) his own father and uncle. As Ned's stories get darker and angrier - and as Red's life begins to mirror Ned's - can he escape his re-emerging memories and build a successful life, or is he destined to be the devil his ex-wife claims?This is an intricately told tale, with deft control of its meandering plot and unreliable narrator. On literary merits alone, it probably deserves all the plaudits it gets (and more than 3 stars). But it's not a lot of fun. The narration becomes edgy within a chapter and slides rapidly into squicky from there on in - there's no avoiding the unreliability of the point of view, and McCabe ensures we have enough clues to guess at what may have really happened.By half way through, I was reading through my fingers, no longer really keen to watch the car crash unfolding.So - clever, intricate, at times obscure (given the unreliable narrator you are always building your own narrative), and very very dark.