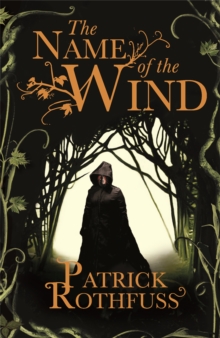 The Name of the Wind : The Kingkiller Chronicle: Book 1
Paperback
Description
'I have stolen princesses back from sleeping barrow kings.
I burned down the town of Trebon. I have spent the night with Felurian and left with both my sanity and my life.
I was expelled from the University at a younger age than most people are allowed in.
I tread paths by moonlight that others fear to speak of during day.
I have talked to Gods, loved women, and written songs that make the minstrels weep.
My name is Kvothe. You may have heard of me' So begins the tale of Kvothe - currently known as Kote, the unassuming innkeepter - from his childhood in a troupe of traveling players, through his years spent as a near-feral orphan in a crime-riddled city, to his daringly brazen yet successful bid to enter a difficult and dangerous school of magic.
In these pages you will come to know Kvothe the notorious magician, the accomplished thief, the masterful musician, the dragon-slayer, the legend-hunter, the lover, the thief and the infamous assassin. The Name of the Wind is fantasy at its very best, and an astounding must-read title.
Information
Format: Paperback
Pages: 672 pages, map
Publisher: Orion Publishing Co
Publication Date: 12/06/2008
Category: Fantasy
ISBN: 9780575081406
Free Home Delivery
on all orders
Pick up orders
from local bookshops
Reviews
Showing 1 - 5 of 12 reviews.
Previous | Next
Review by dudara
16/06/2015
This is the first book in the new Kingkiller Chronicle, and is an amazing fantasy debut from author Patrick Rothfuss. The series will be a trilogy and I am already eager to read the next two installments. However, I'll have to wait until 2010 to get my hands on the books.The book is narrated by Kvothe, who is telling his story to a Chronicler. He recounts the years spent with his parents as part of a travelling troupe and as an urchin living on the streets. He is admitted to the University where he earns fame and reknown. From the real-time parts of the book, we learn that Kvothe is a legendary character, but we do not know why, now why he is an innkeeper in this book. We do not know why the demon Bast considers Kvothe to be his master. The hints dropped throughout are tantalising and draw the reader deeper into the story.Fantasy fans will realise that they are reading something rather special when they get hold of this book. The characters created by Rothfuss are intriguing and the slow build of the story works well. Well worth a read if you are a fantasy fan. In fact, I don't see how you could not read it.
Review by Emily1
16/06/2015
One of the best fantasy novels I've read in a very long time. The beginning may seem slow paced at first, but this is, I think, intentional to create a certain atmosphere for the introduction of the main character. Once the intro is past, its fast paced and gripping. A must-read for all fantasy lovers.
Review by drachenbraut23
16/06/2015
There is so much said already, that I don't want to repeat everything. I disagree with the statement that it is the best fantasy novel written in years as there a lots of very good authors out there. I thought it was a brilliant read with an easy enjoyable flow to it. There were some parts where I felt unsatisfied because of the lack of depth and in my opinion unanswered questions. I very much enjoyed the flashback narrative and I am looking already forward to reading the second Book.
Review by Tsana
16/06/2015
I found the book entertaining. Not terribly original, but well written and engaging enough that I do want to know what happens in the sequels. I did not at first realise that it was part of a trilogy (since book two is slated to come out three years after book one, can you blame me?) and nearing the end, I was confused as to why most of the things in the blurb and mentioned near the start hadn't happened.As I said, the book was entertaining and I am now left wanting to read the rest of the story. However, I only gave it three and a half stars. This is because there were no significant female characters, and that bothered me. Sure, there were incidental female characters like the protagonist's mother, a fellow student who seemed to exist only to be rescued in a key scene, a money-lender, a vague love interest which will probably be explored further in later books. I would like to think that in the later books when the protagonist is older and wiser, this issue will be rectified, but my hopes are not high. Bechdel test fail.
Review by reading_fox
16/06/2015
Excellent. Somewhat light, but unnecessarily long epic fantasy, but very enjoyable all the same, well deserving of all the hype it has been receiving. I'm not quite sure about the slightly unusual format of the tale telling, but it seldom gets in the way of the story. Our hero, one Kvothe has settled into a quiet life running a pub in a back country village far from the concerns of most. The minimal custom doesn't seem to prevent him keeping the place in better order than is usually the case. One of the regulars survives an attack by a demon, and shortly afterwards Kvothe meets a stranger. This turns out to be the famous Chronicler who has been looking for Kvothe for some time, as Kvothe is also more famous than first appeared. He persuades Kvothe to tell his tale, which starts back in his earliest childhood as one of the Ruh travelling folk, before going on to detail his adventures at the University - a school for learning magic. This recital is intermittently interrupted by minor bar-keeping antics, which do detract form the story.Kvothe's various childhood experiences do manage to describe the world in some detail - but as a prelude to his more famous adventures these take a very long time to get through, and the book ends long before the details are delivered. I hope and assume that there will be a connection and continuation of the current demon attacks - but little mention is made of this. Kvothe's childhood is all that you would expect of a fantasy hero - early bereavement, hard life, recognised as being someone special, few friends but a major enemy at school, and finally of course trouble knowing what to do with the girls. None of this lack of imagination interferes with the delicacy of the prose, or the character interactions which shine with grace and poise.The magic systems and the rest of the world building do display much more imagination than the basic plot did. There seem to be at least two different types of magic - some 'sympathetic' binding system, and a much harder and more powerful 'naming'. I was amused by the vegetarian dragon, and the clever foreshadowing that still surprised me. the remaining demons, fallen and risen Angels leave a lot still unexplained, but suffice to provide almost believable motivational hooks. Overall it is long, but not too badly so - it could quite definitely have been shorter. The writing is enjoyable to read and the characters fun. There is a lot left unexplained for the sequels to cover. I look forward to reading them in due course.
Also in the Kingkiller Chronicle series