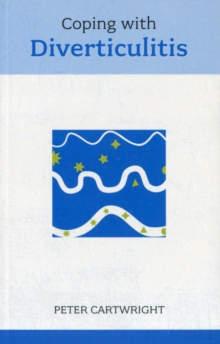 Coping with Diverticulitis
Paperback
Description
Diverticular disease is a digestive disorder caused by enflamed diverticula, or pouches, in the colon.
A common cause is constipation due to lack of fibre in the diet.
Diverticulitis is extremely common, and a half to two thirds of all people in Europe and North America will experience it, while around 6,500 people a year are admitted to hospital because of diverticulitis in the UK, and 440,000 in the US.
Many more require outpatient treatment. Symptoms may include cramps, bloating, constipation, fever, nausea, vomiting, chills, abdominal pain, and rectal bleeding, while complications may include peritonitis.
Treatment is with antibiotics, though lifestyle factors such as diet and exercise can make a great difference; a person's state of mind can also be an influence.
This book looks at the treatment and self-management of diverticular disease - while the doctor can help, much can be done by the individual to minimise the effect of this condition.
Subjects covered include: types of diverticular disease; diagnosis and tests; treatment, including laxatives, fluids and antibiotics; exercise and rest; diet and probiotics; and emotions and living with diverticular disease.
Information
Format: Paperback
Pages: 128 pages, illustrations
Publisher: SPCK Publishing
Publication Date: 01/05/2007
Category: Diseases & disorders
ISBN: 9780859699853
Other Formats
Paperback from £7.39
EPUB from £8.00
Free Home Delivery
on all orders
Pick up orders
from local bookshops