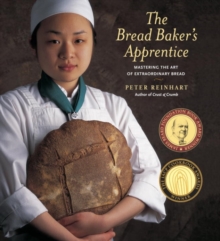 The Bread Baker's Apprentice : Making Classic Breads with the Cutting-edge Techniques of a Bread Master
Hardback
Free Home Delivery
on all orders
Pick up orders
from local bookshops
Reviews
Showing 1 - 5 of 11 reviews.
Previous | Next
Review by dah_sab
16/06/2015
Since I bought this book I have been baking the same loaf of bread almost every night for eight years. I can't remember what it's called, but it's the one where you throw together flour, yeast, salt & ice water then let it rise in your refrigerator overnight. I've expermented with other recipes here, but this particular bread recipe is perfect. I just take a bit out each night for the one loaf I'm going to bake, and the whole recipe lasts us about five days or so. I wish I had the skill & patience to tackle some of the more involved recipes here, but I found the one I need & will be forever grateful, as is my wife.
Review by Pool_Boy
16/06/2015
Very detailed, some recipes are time-consuming, but making most breads are so I don't see that as a problem. No duds from what's been made out of this book so far. Challenging, but rewarding too.
Review by oriboaz
16/06/2015
A great primer on breads. This is the bread book I recommend for someone who wants to learn how to bake bread. The instructions are clear and easy to follow. Many images throughout the book. Interesting recipes, although many are a little rich/sweet to my taste. Recipes are given both in volume and imperial weights. Unfortunately, metric measurements are not given. The shaping instructions are adequate, but I have seen better. Overall a fantastic book for the beginner and advanced baker alike.
Review by kblaas
16/06/2015
if you are a hard core, scientific baker, this is the book for you. I have yet to have a recipe come out perfectly, but I put that up to me being a bit lax on my timing and measuring. Baking with Julia is a more forgiving book for the amateur baker, but I plan on working up to this one with time and practice.
Review by angray
16/06/2015
This is an iconic book. I discovered it almost by accident; one of those Amazon recommendations which, after doing some reading online, I realized was just what I was looking for, as I'd been wanting to start making bread at home for some time.As the title suggests, the book is an apprenticeship. Put yourself under Peter's authoritative care, listen to what he tells you, and you'll do just fine.The book is laid out in three sections. The first, "What is it About Bread?" is a personal story - Peter's account of the renaissance in artisan breadmaking in North America and of his winning the James Beard national bread competition in 1995.The second, "Deconstructing Bread: A Tutorial" is a thorough tutorial on the art of breadmaking.The final, "Formulas" are his recipes - from bagels, challa and ciabatta all the way to his famous Pain a l'Ancienne and wild yeast cultivation and usage in sourdoughs.I'm still exploring and learning from this book, and I know I'll continue to do so for years